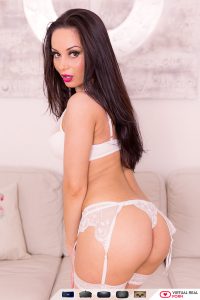 From the first moment that she enters the adult scene, there have been one thing everyone wanted Aurelly for, and it was that tight ass of hers. Just take one look at that ass, and you will find out why DDF is promoting her new movie, Good Morning Dear, like crazy. One thing that Aurelly has done that many porn stars struggled with is that working with multiple famous distributors such as DDF, Juicy Entertainment, Private, and Sunset Media. One of her first movies, Hotel Erotica, was distributed by DDF, was an anal only flick, and released in 2012. She has created plenty of content for this year with the most recent being Private Specials 169: Cute and Tight Holes 5 that was distributed by Private. Do we need to ask if this actress is going to release any more flicks I thought not?
The Upcoming Anal Queen
Now if there is one main niche that it is anal. It is anal to the point where we need to break down all of her collection of anal videos. If you are looking to see her take it from her ass to that eager mouth of hers then you can see all of this in films as DP Fanatics 6409: Regular Misconception, Sodomy for Hot Girls 1, Anal Gorgeous, Rocco's Perfect Slaves 3, Rough Up My Rear, and Really Tight Teenage Asshole 4. Now if you want to see her end the gape fest with a steamy facial then you ought to turn your head to such works as Anal Redemption 3, I Share My Boyfriend 3, Cute Ass Fuck, Private Specials 169: Cute and Tight Holes 5, Sex With 2 Teenage Girls, and Festival Chick Takes the Dick. Lastly let just say all you want is to see her take it in the ass without any fuss or frills then cast your eyes at Private Specials 170: Millennials Fuck Better, Fisting In Action 4, Leather Chronicle 2, Slutty Girls Love Rocco 10, and Woodman Casting X 111.
Krystal Rush Just Doesn't Fit
Sadly the only interview that was available was made by Explicit List which suffers from some serious spacing issues that make it difficult to sift through all the information. While the information is useful, it was difficult to read in every way imaginable. One thing I love is the fact that it directly asked as the first question how did she get into the industry. It only turns out that one day in the winter she was bored and she found an ad on the industry. It was about porn, and in the one month, the rest is history. If you can ignore the formatting issues then check this interview out, you even get to learn that her favorite position is for her to face the wall and get her ass dominated!
Date posted: June 20, 2017