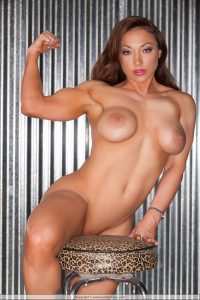 Brandi Mae was born on April 23, 1982 in Dallas, Texas. This porn star is also a famous bodybuilder, which is visibly on her muscular body. Brandi was an active bodybuilder until 2009. She joined the industry with a perfectly shaped body, large muscles and lots energy but the actual year of her official porn debut is not known. Being a petite but muscular girl, Brandi immediately gained all the attention from porn fans and porn producers; her looks is definitely something you do not see every day, at least not when comes to female porn stars.
At the start of her career Brandi mostly shot solo scenes such as striptease, masturbation and toys. With time as her career progressed she started shooting with other women and men; in her porn resume there are genres such as lesbian, hardcore and fetish. In her boy to girl scenes she was often paired with the bodybuilder Quincy Taylor (also known as Big King QT). Brandi is also known for her scenes with the transsexual porn star Tiffany Star.
Among the titles of films that she has performed in are: Kinky Clits 3: When Too Much Is Not Enough, Muscle Elegance (2011), Muscle Kink II, Muscle Elegance (2011), Muscle Foxes, Muscle Elegance (2011), Monster Mommies Vol. 5, Venus Girls (2011) and many more.
Date posted: May 10, 2017