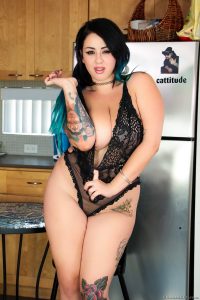 Brianna Rose was born on April 8, 1992, in Chicago, Illinois. She grew up in Miami and is of Venezuelan and Egyptian descent. Heavily tattooed, tall, curvy and with big breasts, Brianna is the epitome of a perfect porn star and a fantasy of every man. All of her friends and family supported her to move to the west and pursue a career in modeling. She was accepted by Burning Angel, so she decided to stay in California. Brianna had her porn debut in 2015 at the age of twenty-three. She realized that she loved having sex in front of a camera and decided to stay.
Within two years Brianna has shot a big number of scenes in genres such as big boobs, masturbation, alt, BBW, hardcore and big butt. Brianna has also appeared on many radio shows, including ManEaters with Glenn King of Evil Angel. She has shot scenes for Burning Angel a couple of times and has hosted many tattoo parties for the porn industry in Los Angeles. Besides with Burning Angel, Brianna has collaborated with Evil Angel, Ultima Entertainment, and White Ghetto.
When she is not working, Brianna loves to spend her free time painting, writing, traveling, doing photography, studying aliens and alien exposure, smoking, and hanging out at secluded beaches. Her favorite vacation place is Hawaii where she goes twice a year. She also loves video games and in fact, has a tattoo dedicated to her favorite game (Assassin's Creed). Brianna has around twenty tattoos on her right arm, leg and on her back. She also has several piercings in her right nipple, lip, and septum.
Date posted: September 15, 2017