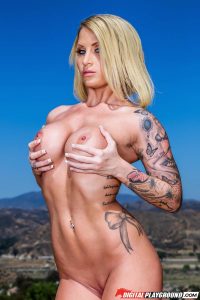 Daisy Monroe was born on December 10, 1990 in the United States. She grew up in a small town in the Midwest in a middle upper class family with loving parents and a sister. She was a wild girl since an early age; she had sex for the first time when she was sixteen. Often she would have go to the bleachers and flash the boys while they were playing football. She was always a slutty and promiscuous girl who had plenty of sex with both men and women. At the age of eighteen she enhanced her breasts. Before she focused on her career as a porn star, she worked as a stripper in Nevada.
Daisy started her porn career in 2014 when she was twenty-four years old. She was not nervous and enjoyed shooting her initial scenes. She can be seen in genres such as lesbian, toys, hardcore, blowjobs, masturbating, POV and striptease. Petite and super slender, Daisy is the ideal co-star for every scene because she is a real spinner who can easily be lifted and switched to another position. She is a huge fan of the doggy pose and is much into rougher sex.
Daisy has always been into older men and she enjoys filming scenes with her older fellow porn stars. When comes to men she is a huge fan of muscles and tattoos. She has tattoed a whole sleeve on her arm, as well as tattoos on the side of her torso and on her back. Daisy also has a few piercings including Monroe on her upper lip, on her belly button and on her clithood. In her spare time she loves to stay at home and watch Netflix. In the future she sees herself as a successful porn star that has collaborated with all the notable and big companies.
Date posted: May 27, 2017