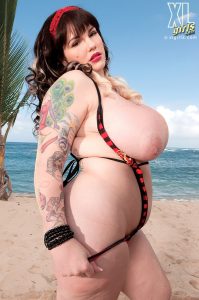 Dors Feline is a porn star that fist in two porn categories: BBW and Alt. She is a busty chick with big ass and fat belly who is covered in tattoos and loves to do all kinds of crazy things with her hair, but most of the time she keeps it short, pink and dark. If you want to enjoy a big Goth, she is the one you need. She weighs 185 lbs, is 5'5 tall and has real huge boobs. Her bra size was 34KK, which looks humongous. However, her boobs were just too big to live with. That's why she got breasts reduction surgery after which she ended up with 34C cup sizes. I don't know if her boobs can still be considered natural, but after all, she doesn't have any plastic in her chest. She has a total of 27 tattoos and a piercing in her clitoris. She is a British gal, born on March 23, 1984 in Berkshire. As her name suggests, she's really into cats and felines in general. That's why she took that name which adds to her seduction. She has some videos and photo shoots in which she's wearing feline face-paint. Also, the tattoo on her left shoulder represents a patch of leopard skin.
Dors Feline always dreamed of being a porn star, but not for the lifestyle of a porn star. She just loves to know that men watch her while she masturbates and loves to express her sexuality naked in front of the camera. That's why she never wanted to get in the good graces of the porn industry. Dors just wanted men to admire her beauty. She wanted to be the reason of their orgasms, no matter how famous or rich she would get during her porn career. Most of her movies are shoot by herself at home, but she was featured in a handful of productions for Sensational Video and Score. She was active in the industry for a couple of years, between 2009 and 2011. However, in 2013 she decided to try her luck with an independent porn career.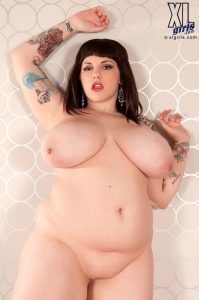 Her personal site is full of her masturbation videos. There's even a video of her getting fingered by her roommate while she sleeps, for the ones of you who are into snooze porn. I really hope she will change her mind and enter the porn industry fully, because there are plenty of men just like me who would like to see Dors Feline sucking a cock or taking it deep in her pussy. Until then, we will have to be thankful for the awesome orgasms she gives herself in front of the camera.
Although Dors Fline is a hardcore punk BBW, that's only her look. Dors is in fact a sweet and introvert nerd. When she's not horny, she likes to stay inside and read. She loves fantasy novels. She's all about Harry Potter and she's a huge Twilight fan, but she only likes the books, not the movies.
Date posted: July 31, 2017