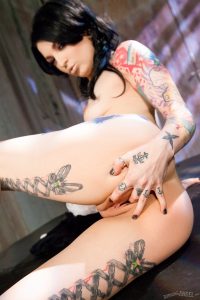 The real-life Snowwhite as some people call Draven was born on January 19, 1988, in Baltimore, Maryland, USA. She was a shy and super reserved child who did not wear shorts during the summer (she was a goth kid). Draven was nerdy; she was a band member, but also had theater activities and was the co-president of a gay-straight alliance. She had spiky black hair and wore heavy makeup. In her spare time she would have sneaked out of her window at night and would have gone to hang in cemeteries.
In 2009 Draven started shooting adult films. For four years she has been part of the Burning Angel family, but she has spent two years doing nude modeling before finally giving into real pornography. After she shot her initial sex scenes, there have been instant demands for more scenes with her and that is how Draven decided to continue shooting porn.
Heavily tattooed and with the hairstyle of a pin-up girl, Draven does not have the typical porn star look and it makes her fans going crazy about her. Always loud in her scenes, she never fakes an orgasm and she always seems to have amazing chemistry with her co-stars whether they are male or female. In eight years, Draven has performed in a variety of genres including bondage, lesbian, interracial, threesome, blowjobs and striptease.
Her most famous films, videos, and TV series are Call Girl of Cthulhu where she plays a Gore Whore, The Cemetery, Band Sluts, Cosplay Geeks 2, All About That Orgy, Sex and Submission and so on. Draven is a very interesting girl. When she does not perform in porn films, she writes. She has dogs that she treats like children and enjoys reading books like Harry Potter or serial killers biographies. She spends a lot of time on her phone and admits that she drinks a lot. Her favorite hobbies are dancing and hanging in dirty bars. At the age of sixteen Draven has come out as a bisexual, which, as she has stated, explains why she has such great chemistry with women on camera.
One of her worst habits is cursing although she tries to censure herself whenever she can. Draven has a lot of tattoos and even she is not sure how many she has; some of her most visible tattoos are the ribbons down the back of both legs, wings on her upper back, a face on her left hip, an ice cream cone and other designs on her left arm and tattoos on her knuckles. She also has several piercings in her navel, tongue, nipples, ears and on her upper lip.
Date posted: September 13, 2017