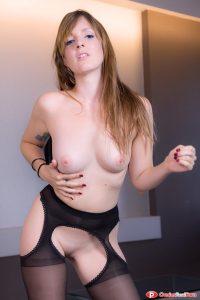 Irina Vega was born on December 19, 1982, in Alicante, Spain. Irina is a real porn veteran with a career of ten years. She started shooting adult films back in 2007, at the age of twenty-five. The petite ginger is the founder of the production company and independent website Altporn4U. She is also a director and a producer of adult clips. Irina considers herself more of a model, rather than an actress, because as she has stated, she does not act in front of the camera, but is completely natural, driven by her passion and sexuality. She always wanted to experiment and perform for other people.
Irina is the precursor of the "alternative porn" movement in Spain through which she offers a different look of pornography. Her hard work and her innovative approach to directing and producing porn resulted with a nomination for the Galaxy Award for the Best Website in 2013 and Ninfa Award SEB KLIC KLIC for the best film editor in 2013.
Irina can be seen performing in all sorts of genres from softcore to lesbian to hardcore, fetish, alt, public, for women and striptease. The lovely babe lives in Spain. When she does not perform in front of a camera she loves playing video games. Irina is a vegetarian.
She has a natural body without any piercings. Irina has a tattoo on the right side of her lower abdomen. When comes to animals, Irianis very vocal about their rights, which can be seen on the photos she posts on her Instagram.
Date posted: August 21, 2017