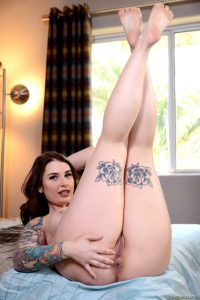 Ivy Lebelle was born on June 15, 1987, in Los Angeles, but she grew up in Studio City. Her father is Italian and her mother is an American from Texas. Ivy was raised in a strict Christian home, but it did not stop her to be a goth kid while she was in school.
At the age of fourteen, Ivy had sex for the first time. Her then boyfriend had a very big penis, which as she has stated, had ruined her for her next partners because she only enjoys having sex with endowed men. However, one of the reasons for joining porn was having sex with endowed co-stars. With nineteen years of age, Ivy started working as a makeup artist, but also as a bikini bar dancer in her twenties.
Ivy was twenty-nine years old when she decided that she wanted to become a porn star. As a makeup artist who was working with plenty of porn stars, Ivy already was involved in a way with the industry. She had a lot of friends who were already in the porn industry; Skin Diamond was her close friend and she helped Ivy bring the big decision. So, Ivy had her debut just this year (2017).
She signed with Skyn Talent and shot her first scene for Amateur Allure on February 10, 2017. After this, Ivy decided to become a free agent and was mostly doing her booking by herself.  Her stage name is derived from The Cramps band member Poison Ivy. Within these several months, Ivy has shot scenes in genres such as hardcore, blowjobs, threesome, creampie, and striptease. Ivy had her first squirting scene during an orgy scene with Markus Dupree for Zero Tolerance.
Heavily tattooed, Ivy started inking her skin when she turned eighteen. She has baby skeletons holding razor blades on her wrists with the phrase "Love Is Suicide", which is a lyric from the Smashing Pumpkins song "Bodies"; she also has a Halloween themed sleeve tattoo on her right arm, which depicts haunted house, a graveyard, and a little boy telling ghost stories while sitting on a pumpkin, roses behind both of her thighs, Jesus and Mary on her feet, and another tattoo on her left thigh. The newcomer babe is bisexual and is currently dating Chad Alva.
Date posted: September 10, 2017