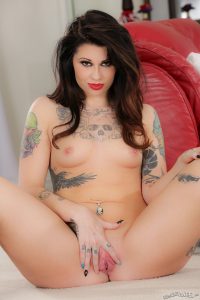 The official birth date of Jordyn is not known, except that she was born in West Virginia, where she grew up in 1994. She was a friendly kid at school and was very athletic, doing various sports. Jordyn was always close with her family. Prior porn she was attending college, earned a Bachelor's Degree in Sociology and then worked briefly as an erotic dancer.
Jordyn does not have any special story on how she decided to become a porn star; it happened naturally and she decided to remain in the industry. Her official porn debut happened in 2014 when she was in her mid-twenties. She got in contact with Joanna Angel and her company and the rest is a history. Within the past three years, the tall brunette was focused on shooting scenes in genres such as interracial, threesome, alt, anal and hardcore. She has been shooting mostly for Burning Angel and Evil Angel.
Jordyn enjoys traveling and reading. In her spare time, she loves working out at the gym. Her taste in men is mostly the country type of guys. She loves masturbating and does it every single day. Jordyn is known for her numerous tattoos, in fact, she has counted around 40 tattoos on her body including a large bird below her right breast; large skull design across her clavicles; design on her right shoulder; design on her right forearm and a large design on her right thigh. She has a piercing in her navel.
Date posted: October 13, 2017