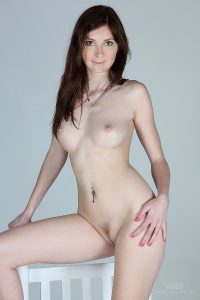 There is nothing that beats seeing a girl taking a dick that looks as if it wouldn't even fit inside of her and this is something that gets Kattie Gold off. Kattie has worked with a lot of people in her years in the industry, but some of her favorites that she seems to come back to are the guys at Eromaxx Films, Kick Ass Pictures, and Mile High. One of the first movies that she was in, Young and Tasty 8, came out in 2008 that was distributed by the people at Metro. The movie that she went out with the most recent was Swinging Pornstars: Fanatic Fuckfriends that were published in 2016 by her favorites at Eromaxx Films. Do I think that I am going to see any of her this year? Yes, if you can look past the fact that she only released five movies in 2015 then there is no other signs that would show that she was not coming back to show off more of her legendary ass.
There are three niches that Kattie has produced a ton of over the years as her lesbian only, facial, and anal content has made her famous. A handful of her lesbian only content includes the works of: Love Triangle, Backstage Bangers 2, Lipstick Romance 4, Best Fucking Friends 1, Orgasmatics 22, Legal Porno SZ013, Lesbian Oil Orgy 2, Top Wet Girls 8, Ass Eating Lesbians 3, Nasty Nurses 1, and Lesbian Nurses 2.
The best part about her lesbian content is the fact that there is a ton that I am just not including so definitely check this actress out if this is your fetish. Next up, curious to see how much pretty her face would look covered in cum then see the works of: Hot Nights in Prison, Aussteiger, Sackhupfen im Bowlingcenter, Mom and Dad Are Fucking My Friends 10, Rocco's POV 7, Rocco's POV 8 (WEB), She Is Half My Age 13, Mom and Dad Are Fucking My Friends 4, and Teenage Fantasies 2. Lastly if you want to enjoy seeing her chocolate walls get invaded then join me at looking at DP Desires 1, Anal Extreme Teens, Real Naughty Couples 5, Angel Perverse 22, All I Need, Private Specials 67: Anal Carnival Freaks, Anal Virgins 2, Search For a Star 2012, and Gangbang Extreme Teens.
Date posted: July 8, 2017