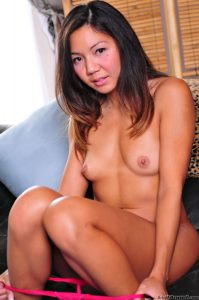 The petite and super sexy porn star was born on March 16, 1981, in Denver, Colorado. Her real name is Jacqueline A. Carvajal. Her father is Panamanian and her mother is Chinese. Shortly after her birth, her family moved to Panama where Lei grew up and finished high school. When she was twenty years old, Lei moved to Florida with her mother. In Florida, she attended The Art Institute of Fort Lauderdale and during this time she discovered her passion for surfing and skating, which later inspired her to pick her porn stage name.
Lei's father was a photographer and she used to take photos of nude women which as she explains led towards her interest in women. Lei's beginnings in the porn world were through the internet. She used to do webcam shows with her boyfriend. While working in Miami, she met the actors Kelly Kline, Harmony Rose and Tory Lane. They introduced her to the adult film industry, which resulted in her relocation to Los Angeles, where she started her pornographic career. Lei's official beginnings were in 2004 and after seventeen years, she is still active and super famous.
Her name is a combination of the name of a character in the surfing film North Shore (Keeani) which in Hawaiian means wave. Her last name Lei means a flower necklace. Within her rich career of seventeen years, Lei was shooting all sorts of porn scenes including hardcore, anal, threesome, Asian, and interracial. So far she has performed in 202 adult feature films. She was nominated for an AVN Award in 2009 and 2010.
Date posted: August 20, 2017