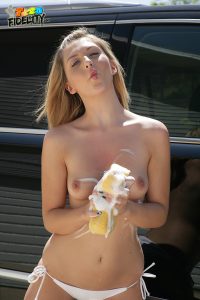 Kelly Greene was born November 22, 1996 in Columbus, Ohio where she grew up. She has two siblings and her parents are still together. She described her life in Columbus as boring. Once she decided to focus on her porn career she moved to Miami, Florida. She has never been close to any member of her family even before she decided to start her porn career; they barely speak before and they are not in touch now that she is in the adult entertainment industry. At the age of fourteen she had sex for the first time with her then boyfriend, with whom she was in a relationship for several years. She also was with girls.
Kelly worked at a pizza shop, but got tired from the surroundings, her routine job and from her boss, so she quit and decided not to have a regular job ever. Shortly after she found herself a sugar daddy who was giving her money and presents, and once they ended their relationship, she moved to Miami and started her porn career at the age of eighteen (2015). Her first scene was a foot job for Primal Fetish. In her resume there are versatile genres such as lesbian, threesome, teen, hardcore and POV.
Kelly loves science and philosophy and she spends her free time reading these topics. Her favorite food is pizza and she even has a tattoo of an alien eating pizza. She also has tattoos on her right wrist – and octopus; on her left forearm – rose and Rolling Stones lips design inside her left forearm.
Date posted: April 13, 2017