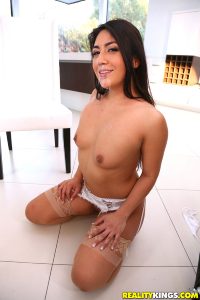 Lexy Bandera was born on July 20, 1995 in Corpus Christi, Texas where she grew up. She was always a wild girl who was the most promiscuous one in school.  She has stated that she was known as the school slut. Prior getting in porn, Lexy worked as a licensed esthetician; she worked on lash extensions, brow shapings and so on.
In 2016 Lexy came across an online ad for adult entertainment and modeling; she was always a sexual girl and always wanted to try out something new. The ad intrigued her and at the time she already worked at a strip club for some time. She was already comfortable with her body and nudity so she thought that she would be able to have a great career in porn.  Her then job as a beautician was frustrating her, so in the middle of her working hours, she quit and contacted the girl from the ad who set her up with an agent. Lexy is not even one year in the business and has already done some really hot scenes. She has been casted in genres such as Latina, lesbian, anal, bondage, facial, uniform and hardcore.
Her family knows about her porn career and they are completely OK with it. In the past Lexy used to do roller derby and even now she loves to skate around; this is therapeutic to her and it helps keep her butt and legs in shape. Lexy has several piercings in her body and a tattooed outline of the state of Texas on her lower left abdomen and a tattoo on her upper back.
Date posted: March 28, 2017