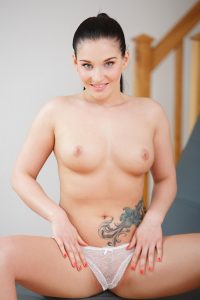 Lucia Denville is a sexy Caucasian actress from Slovakia, and with one year in the porn industry, she is packing heat and getting action done like a real pornstar. She recently celebrated her 25th birthday, and we can say that she only gets better with age. Lucia has a sexy, petite body and her natural tits make you want just to lick them. Let's take a short tour of her profile.
Entry into Porn
Lucia Denville joined the world of porn in November 2016, which is over a year ago. We don't know the reasons behind her joining the porn industry, but watching her videos you realize that she is a very sexual woman and among her reasons for joining were to satisfy her sexual desire and her unending hunger for sex. She seems to enjoy every bit of the action, and she wants to have sex action with different partners. She loves satisfying her body which is aroused by the simplest provocation.
Lucia's Got Killer Moves That Will Amaze You
Lucia has mastered the art of seduction, foreplay, and fucking. She has a sexy body, and she knows it and consequently knows how to give it to her male lovers. She can pull different positions and angles just to make sure she is getting the most excellent stroke by the dick.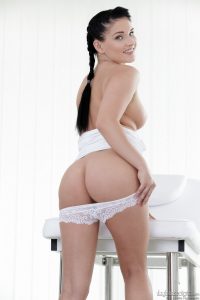 Her prowess is incredible, and Lucia can handle more heat than you can imagine. In a certain video that lasts for over a minute, Lucia gets gangbanged by nine men who have massive cocks, and she takes all that heat. She can combine a double penetration, blowjobs, and handjobs.
Lucia's Experience in Porn
With just over a year in the porn industry, Lucia is an actress who has done more than you can think; she has 43 videos and is also tagged in other numerous videos with various pornstars. Lucia has worked with various productions which are Legal Porno, Fister Twister, Vr Bangers, Box Truck Sex, Beauty4K.com, Tmwvrnet, and Vipissy.  Lucia has been tagged in numerous scenes on hardcore, teens, blowjobs, striptease, group sex, slut, riding, amateur, threesome, party, gangbang, teenie, and cfnm.  Most of the videos are in high-definition, with a running time of 5-15 minutes.
Date posted: March 9, 2018