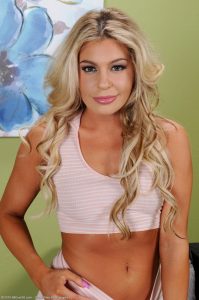 Nikki Capone was born and raised in Miami, Florida. She is of Italian descent. Nikki comes from a big and supportive family and they all know about her porn career. As a child she was into sports and also did tap dancing, gymnastics and softball.
After high school she enrolled to college, and studied cosmetology. She had a brief working experience in cosmetology industry and she is still practicing her knowledge when comes to hair and makeup and lashes. At the age of sixteen she had sex for the first time. Nikki was not a promiscuous girl, but describes herself as a very demanding girl when comes to sex. She also had relationships with girls.
Nikki started her porn career in 2016 when she was twenty-nine years old. Nikki has already done a lot of work in the past year of her career. Because of the fact that she is thirty years old Nikki is often cast as a MILF. In her resume there are scenes in genres such as hardcore, lesbian, housewife, big butt, striptease and mature. Nikki is also active as a webcam girl.
Nikki describes herself as a dominant girl who would love to shoot a dominant scene in the future. When she has free time she spends working out because she loves to invest in her good looks and she also loves spending time with her family. She has enhanced her breasts with silicones and her current cup size is 34B.
Date posted: March 28, 2017