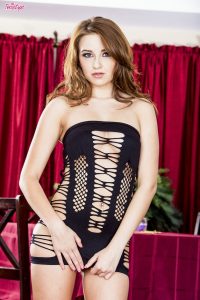 Pressley was born on February 10, 1992 in Los Angeles, California, USA.Pressley started her career in the adult entertainment industry in 2010 when she was eighteen years old. She used two different aliases, Ariel Lee and her current Pressley Carter. In the past seven years Pressley has been performing in many different porn genres such as POV, interracial, toys, hardcore, lesbian, masturbating, massage, striptease and also hairy (much praised by her fans). She is still active in the industry.
Pressley has a few tattoos including vines with five pointed stars on her left bikini line and one on her hip (which was turned from a vine into a tribal); she has a full sleeve tattoo on her right arm. Her navel is pierced. She shares her time between New York, Los Angeles and Miami.
Fans can follow her on her Twitter page and chat with her chatstar.com/pressley. She is currently waiting for her official website to be launched. Fans can also watch her short videos on vine.co.
Date posted: January 27, 2017