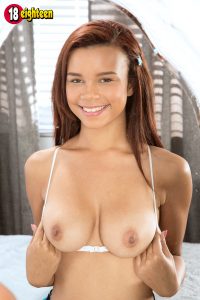 Raven was born on March 29, 1997 in Miami, Florida. Raven is a new name in the adult entertainment industry. She has been active since 2016. So far she managed to shot some really juicy scenes in genres such as teen (after all she was only nineteen when she started filming X-rated scenes), POV, hardcore, blowjobs and big boobs.
Raven is currently represented by Riley Reynolds and his talent agency Hussie Models LLC based in North Miami Beach. Raven is very exotic looking natural beauty with curves and pretty face. She has a tattoo on her back and no piercings.
She is currently pregnant (which means she filmed some of her hot scenes while pregnant) and probably will take a break from work for a while. Her fans can follow her on Twitter, Snapchat and Instagram.
Date posted: January 30, 2017