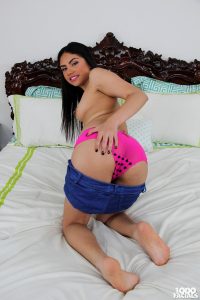 Rose Darling was born on 19 of April 1994, in California. She grew up in a very small Northern California town and was a quiet person. She was picked and bullied during her school days and did not have that many friends. Rose liked to be in the school clubs (such as French Club) and enjoyed learning about foreign countries and languages. She is of Mexican origin.
At the age of eighteen, she had sex for the first time, with her then boyfriend. Rose loved sex but was never a girl who sleeps around with many people; she always kept it for her official relationships. Prior porn she only had sex with three guys.
In 2015, Rose discovered Kink. She needed to earn money and their offer to start posing and shooting adult sex scenes for them became a real challenge for her. She accepted it and decided to go with the flow. She was shooting with Kink for several months and then decided to focus on mainstream porn. Rose was very nervous when she had her first heterosexual sex scene because suddenly she had to have sex with a male partner. But she got over it and finished the scene professionally.
So far the sexy Mexican babe has performed in genres such as blowjobs, deep throat, hardcore, Latina, group sex, threesome, teen, facial and masturbation. She enjoys spending time with her dog and enjoys listening to metal music. Rose is vegan.
Date posted: September 11, 2017