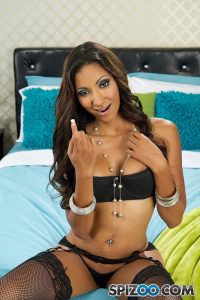 There was a reason she got voted for the most epic ass last year and boy does she reminds us that Native Americans got any other race beat when it comes to how much junk they got in their trunk; let's just say Sadie has enough to share. Royal Empire Productions, Royal Empire Productions, and Devil's Film are just some of Sadie favorite distributors out there. One of her first flicks was created in 2013 with the guys down at 3rd Degree by the name of Laid in Lingerie 2. Deep Throat League 3 was Sadie latest movie she was in thanks to her pals at Evil Angel. It produced this year. We can expect to see more out of her this year with the workaholic that she is.
A Native Anal/Woman Lover
There are only two niches that I can say with confidence that Sadie has mastered which is lesbian only and anal videos. It seems that she is just starting to dip her toes in the warm waters that is lesbian only content with such relatively new works as Barely Legal 154, Licking Lesbians, Prison Lesbians, History of Lesbians, Pretty Kitties 2, Seduced by a Black Woman, Candy Lickers and Slumber Party 25.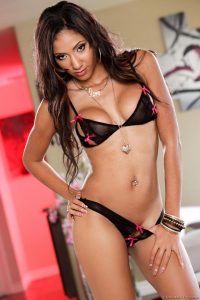 Now Sadie can take it in the ass with some of the greatest ass seen time and time with flicks such as Sloppy Cocksuckers, Angelic Black Asses, Hardcore Gangbang 41052, Black Ass Anal Drilling 4, Assed Out 7, Black Panthers, Up That Black Ass 9, Backdoor Beauties, Screw My Ass White Boy 2, All Things Anal 1, Anally Talented 2, Republican Candidate Wife Swap, and Black Couples And The Virgin Babysitter.
Just A Cute Nerd
Now if you want to meet someone that is a cute nerd with a bit of an attitude then Sadie is your girl. Sadly I could not find part two of the interview of else I would have to watch it since I thoroughly enjoy this interview. Less than five minutes end I knew that she joined the industry first because of her interest in modeling, but it seems that faith had other plans. An interesting fact is that she was very insecure about herself before she started to get into the wonderful world of porn.
Date posted: May 3, 2017