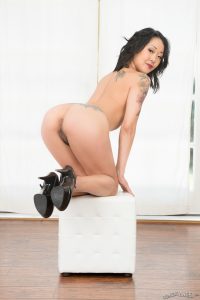 Saya Song was born on April 26, 1988, in South Korea, but grew up in Michigan. She was adopted by an American family and had a normal childhood. She was attending public schools and was a band geek, playing trumpet and piano. Saya had sex for the first time with a guy when she was seventeen years old. The porn star was always into girls and had sex with a woman in her early twenties.
Saya is in the adult entertainment industry since 2015 (age twenty-seven) and so far she has been in all sorts of genres such as Asian, lesbian, feet, masturbation, threesome, interracial and hardcore.
Before she became a professional porn star, Saya was an active amateur performer for two and half years, doing mostly porn by herself or with partners. She managed to successfully keep her amateur and professional porn career in secret from her parents, sparing them from the stress, as she says.
Saya is a bi-sexual who loves sex and was often in inappropriate sexual relations with people who were in committed relationships, engaged or her bosses. Her favorite position is doggy and she loves masturbating. Prior her porn career she used to watch a lot of porn, and currently, as she says, she has no time for that.
In her spare time, she loves to cook, read, write and watch movies. She keeps her body fit with regular exercising. Saya has plenty of tattoos including on her right arm (hibiscus and hummingbird); on her left ribs (chickadee and rose); on her right shoulder blade (angel); on her lower back (stars); on her right hip (fairy); on her left hip (shooting star); on her lower abdomen ("lucky"); on the base of her neck (Hello Kitty); on her left thigh (chimera) and on her inner ankle. She also has a piercing in her septum and has stretched her earlobes.
Date posted: August 21, 2017