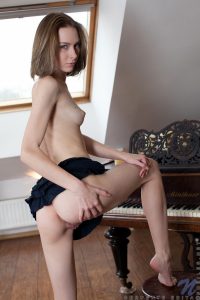 When you mixed the confidence of a mature woman with the body of the teen, then the only thing that this adds up to is a Serpente! Now, this little gem is the best of both worlds and bravo if you know anything about this little fox. There is only a handful of distributors that this actress even worked twice for which includes such names as Sunset Media, Juicy Entertainment and Private. Teenage Sex Addicts 4 was a movie made in 2014 and spread around by one of her favorites at Juicy Entertainment. The last thing that she has done recently was made the previous year under the title of Private Gold: Best Scenes of 2015 by the guys down at Private. This actress does not have much of a track record for me to be confident about rather or not we will be seeing more about her. Due to the irregularity of her uploads and the difficulty, it was to find any info on her then I would put my money on no.
Her career thus far is rather short with not a single niche that she has done more than twice of besides taking a huge facial at the end of her videos, but let's admit that this is starting to become standard. All of the movies that she has had a part of includes: Teenage Sex Addicts 4, Teenage Sex Encounters 2, Legal Porno GIO042, Russian Redhead is Easily Seduced, Get To Work, Private Specials 113: Fresh Teens, Private Gold: Best Scenes of 2015, Teenie PlayDolls from Moscow 3, My Secret Casting Tape 3, and We Love Lesbian Sex 1. Hopefully, we will have something in the future that takes advantage of her facial or anal experience.
So once again after hours of research, I was able to find nothing on her, but the guys down at Adult DVD Talk Forums was able to dig up some information about her. One thing that they were able to find that I wasn't anywhere was the fact that she is working with a few other companies such as Webyoung, Euroteenerotica, and Teamskeet.com. It seems that she is working to expand her anal experience. Another factoid that I was able to pick up from the site is apparently there is a double anal penetration flick that she did for Legal Porno that IAFD doesn't have up. Other than that it seems that as always it is her several names that make it difficult to find anything on her. A shame too because I would have love to known how this actress started her adult film making a career.
Date posted: June 11, 2017