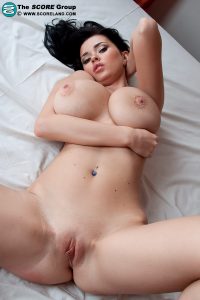 Sha Rizel was born on August 19, 1988, in Kiev, Ukraine. She is famous for being a glamour and an adult model and a television personality as well. Back in 2009 Sha started doing commercial and mainstream modeling in Ukraine. Later, she was discovered by Satoshi Kizu, the Japanese photographer who also discovered and photographs of Yulia Nova.
The Japanese photographer Kizu promoted Sha with the alias Sophie Nova for his website Russian Beauties. Being naturally busty and beautiful, Sha, (who also performed under many different aliases such as Katya Sidorenko, Sophie Nova, Ekaterina Sidorenko, Katya Gennadievna Sidorenko, Kate Gennadievna Sidorenko) immediately got all the attention. She was featured in a non-nude set of September 2012 "All Stars Issue" of Bachelor. Sha's first nude photo session was done with Kizu and was supposed to be published in September 2012 but was delayed and published three months later. Her nude pictures were released in Pin Up Files. That was Sha's first big success.
The following year, in February, Sha had her first appearance on Scoreland as "Sha Rizel"; the website published nude photos of her. It did not take a lot of time for Sha to become part of the top five busty models of Scoreland's (and this website publishes pictures of hundreds of girls). In late February 2013, Scoreland announced a celebration "A Week with Sha Rizel" starting March 4; within five days the site published four additional photosets and three videos of Sha. Fans went crazy about the busty beauty.
So far, Sha has been only modeling or performing in solo videos where she mostly does a striptease or some softcore action. The Ukrainian babe is also a TV personality and has appeared on Ukrainian televisions, presenting herself as Katya Sidorenko. Although she has never appeared nude on TV, her appearances are always provocative and sexy.
So far she has also appeared in advertisements and was featured in the Russian edition of MAXIM magazine. In April 2013, a nude gravure DVD of Sha (shot by Satoshi Kizu, titled Sophie Nova – Virgin Nude (RBD-27)) was released in Japan. Sha has a tattoo on her left leg which says, "Haec Fac Ut Felix Vivis" which in Latin translates as "Do this in order to live happily", and another one, an oriental character on her back.
Date posted: September 5, 2017