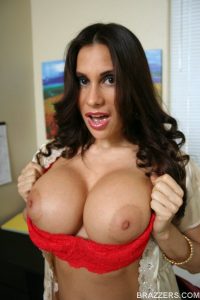 Sheila Marie was born on May 28, 1969, in Mexico. She is of mixed Mexican and Brazilian descent. At the age of fourteen, Sheila moved to the United States with both of her parents. She was attending high school in Riverside, California. Sheila was an honor student and was not a troublemaker, being mostly focused on curricular activities such as creative writing, theatre, and dance. Sheila's official beginnings were in 2002, at the age of thirty-three.
Prior her engagement in the adult entertainment industry, Sheila was attending the first year of the master's degree program.  In the years before she became a porn star, she was a glamour, figure, bikini and fitness model. She had problems with money so she decided to do figure modeling and this is how she ran into Sandy Bunz who offered her money for making an adult video. Sheila accepted the offer and soon after her first video, she got other production companies' offers.
Sheila is mostly active in videos and scenes that praise her big breasts, but she also did amazing performances in genres such as masturbation, mature, anal and hardcore. Sheila has changed several aliases (before and after her breasts surgery) and in some of her work, she is credited as Rosanna de la Vega, Shayla Marie, Rosanna Dela Vega or Mrs. Sheila.
Her fifteen years-long career brought her great times and collaborations, but Sheila's favorite company to work with is the Brazzers Network. In her spare time, Sheila loves practicing yoga. She also writes and reads. She is an educated woman who has been studying Dionysius, Mithras and Apollo in mythology and history.
Oxygen channel did an interview with Sheila in 2004 while she was training at a Southern California Gold's Gym; they talked about her perspective on fitness, diet, and sexuality. She became Fitness Competitor No. 5 in BodyBuilding.com and is a winner of a swimsuit competition in a Latin American TV Network. Sheila is vegan due to problems she had with her thyroid gland which caused her an excessive gain weight.
Date posted: August 26, 2017