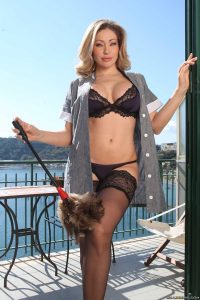 Vittoria Risi was born on November 3, 1978, in Pellestrina, Venice, Italy. Her real name is Tiziana Zennaro. Risi graduated at the Academy of Fine Arts. Prior her porn career Risi worked as a real estate agent in Venice for a while, and also as a painter.
Vittoria made her debut in 2008 at the age of thirty. Her first porn performance was in the film Barcelona in Love. In June 2008, Vittoria took part to the Sky Italia documentary fiction Ciak, si giri!. During her career of nine years, Vittoria was shooting films in all kinds of genres such as interracial, anal, hardcore, threesome and mature. As a true Venetian, Vittoria was part of the 2009 Venice Carnival; she dressed up in XVI century clothes, impersonating Veronica Franco, a Venetian poet, and courtesan.
In 2010 Vittoria played Moana Pozzi in I Segreti di Moana (porn biographical film) directed by Riccardo Schicchi.  During this year, Vittoria performed the human version of the Giorgione's paint "La Nuda" in an exhibition about the artist at Palazzo Grimani in Venice. In 2011, the porn star took part in the 54th edition of the Venice Biennale of Contemporary Art posing nude in the installation of Gaetano Pesce, part of the "Italian Pavilion" curated by Vittorio Sgarbi.
In 2010, Vittoria won her first Venus Award for the category Best Newcomer Europe. Besides being a pornographic actress and an artist, Vittoria is also a television personality. Risi took part in several television programs including Matrix, Stracult, Ciao Darwin, Artù and Niente di personale and she also starred in the practical jokes of the FX show Sexy Camera all'italiana (2011-2012).
Date posted: September 4, 2017