What is the best porn movie with pregnant girls?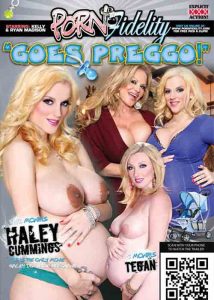 We recommend
Porn Fidelity Goes Preggo!
Pregnant porn is in huge demand, since the fetish is so popular. But the offer is not that great in this niche. Usually, the porn with pregnant ladies is made by shady directors featuring amateur models by and everything is shot in some motel bedroom with poor skills and crappy equipment. However, someone decided to step in the game and bring us some high quality preggo porn, and that someone is Kelly Madison, the busty porn star director who shoots movies with her husband. She produced Porn Fidelity Goes Preggo!, which is the best movie with pregnant girls. In this movie, Kelly's husband gets a teen babe and a MILF pregnant, and they come back to be fucked by the hung guy. At one point, there's a threesome in which Kelly Madison and her husband are sharing a young pregnant girl. All in all, this is the wildest and best directed preggo porn video, and a must watch for anyone who is into this fetish. You can find it on Kelly Madison's site, Porn Fidelity.