TOP 3 Sites Similar to MyDirtyHobby.com
My Dirty Hobby wants to be a real social network for porn lovers. Basically, this is a community of horny amateurs, single or couples, who enjoy their sex life to the fullest, film their adventures and then share them on this site for all to see. This is a German porn site, and most content is from German babes and couples. When it comes to content, the amount is ridiculous. This website comes with over one million clips. It's true that most of the clips are between 3 and 15 minutes, but you will also find hour long sex tapes on the site. The site also has webcam models available for live fun. If you like online porn communities, then you should check out these three sites alternative to My Dirty Hobby. Continue reading →
#3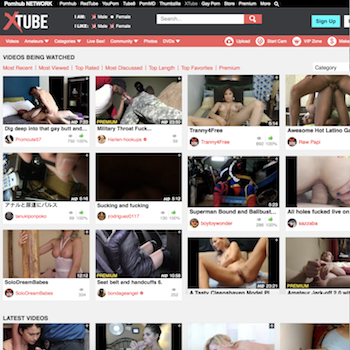 XTube is one of the many free porn sites in the PornHub network. But this free sex tube has something different. It has a very active community of amateurs who are sharing videos on an online platform. The community also has a large number of gay guys and gay couples. Joining this site as a VIP member will give you access to all those naughty amateur movies and you will be able to chat with members and even upload your own movies. The collection of amateur porn on this site is great because it has a lot of diversity. On XTube will find exclusive amateur videos from lots of categories, including Asian, BBW, Transsexual, Mature, Ebony and BDSM.
#2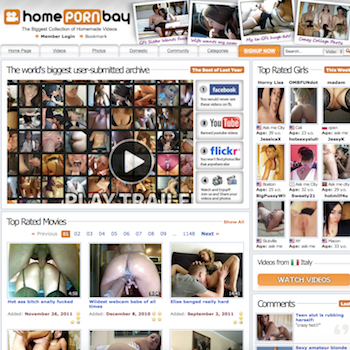 Home Porn Bay is not an exclusive site, meaning that the amateur movies that are shared by this online porn community are not featuring members of the community. However, this site has lots of amateur porn fans who are submitting amazing homemade videos. On this site you will find one of the greatest selection of amateur porn. With over 38,000 movies, joining this site will being you couples of all ages trying new things, but also many solo videos of girls playing with toys in the coolest ways, threesomes and real orgies. The photo galleries are also great on this site. On this site most content is featuring amateur couples from across Europe. The photo galleries are free but for the high quality amateur content you will have to join the site.
#1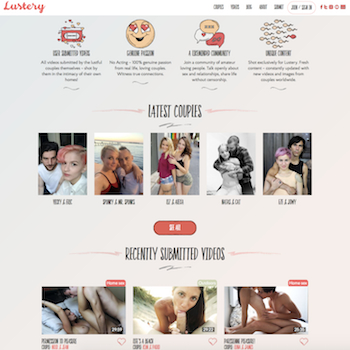 Lustery is a place for independent porn artists who want to shoot porn on their own and share it with a community. The site has many registered couples who are uploading content on a regular basis. Amongst the many beautiful people of this site you will find real lesbian couples sharing their private sex life with the members of this site. It's amazing what can happen when you give cool and horny couples the chance to stream themselves on a clean and professional platform. The videos have no scripts, no acting, no fake orgasms. The site doesn't objectify women and the passion on camera is real. If you want a porn site for feminists and people who believe in equal rights, this is it. Lustery is ethical porn. The site also has a nice blog, where all new couples are introduced through interviews and biographies and where you can enjoy stories and articles on all kinds of sex related topics, which are really worth reading.