TOP 5 Device Bondage Porn Videos by Kink
Kink is home of the well done BDSM. They invest a lot of effort in creating the perfect settings for the hardcore adventures which you can see in their movies. Besides all the crazy torture and fringe sex the models go through for your entertainment, the movies are also great because of all the props and tools used in inflicting pain and forced orgasms on the helpless babes. We figured that you would like to see the best BDSM contraptions of this site, so we put together the Top 5 Device Bondage Porn Videos by Kink. Watch them all! Continue reading →
#5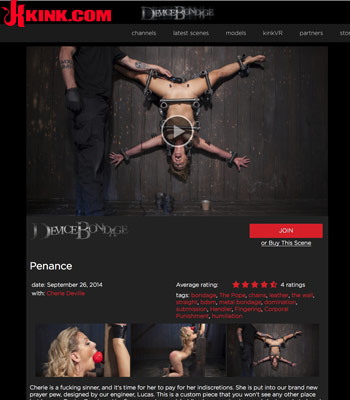 TITLE: Penance
RELEASE: September 26, 2014
We begin our list with Penance, a movie filled with screams and pains in which the victim is the voluptuous blonde Cherrie Deville. There are two devices in this movie you really want to see. The first one is the prayer pew in which she is kneeled and bounded with her ass popped out for some painful whipping and rough fingering action. In order to set herself free, she has to solve a puzzle with her mouth and a gag ball, but that's almost impossible while Lucas is whipping her back and ass. In the second part of the video she gets pinned to a wall, upside down and with her legs spread open, just perfect for some forced orgasms with a magic wand.
#4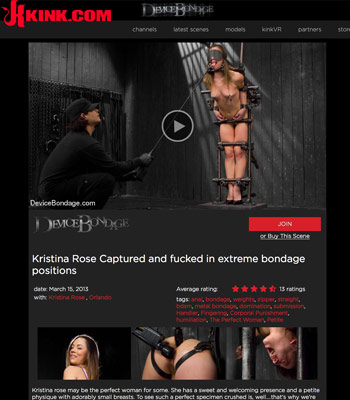 TITLE: Kristina Rose Captured and fucked in extreme bondage positions
RELEASE: March 15, 2013
Another great installment in the Device Bondage series by Kink is the one featuring Kristina Rose. While she was tortured for this movie, she put out some of the hottest screams of pain. She almost cried at one point when she was locked in a press with her ass in the air while a dildo drill was ripping apart her tight little ass. She gets slapped, spanked, whipped while her body is caught between metal rods, and she is even put in a straitjacket and hanged upside down, while her inner tights are covered in clothespins and her pussy gets pounded by a dildo on a stick.
#3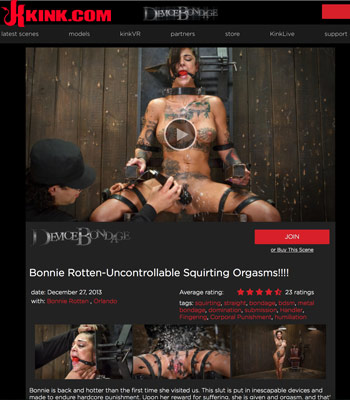 TITLE: Bonnie Rotten-Uncontrollable Squirting Orgasms!!!!
RELEASE: December 27, 2013
This movie was a blast for any fans of the inked up brunette. Bonnie Rotten is one of the most hardcore porn stars out there and she was perfect in this Device Bondage episode from Kink. She was put in some locks and devices from which it's impossible to escape, and then the fun begin. Her master, Orlando, had his way with her hot body. He used all the tricks in the book and the toys in his naughty set to make bonny cum. And she came properly. This episode features a massive squirting orgasm which will please any fans of the forced orgasm fetish.
#2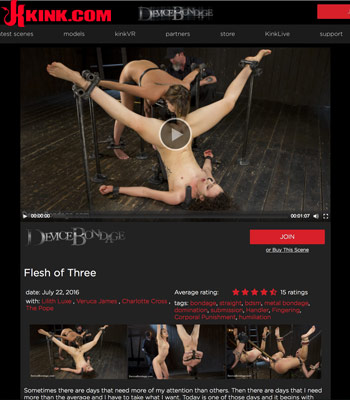 TITLE: Flesh of Three
RELEASE: July 22, 2016
The Device Bondage episodes usually feature the demise and pains of a single girl. But in this Device Bondage episode you will see three babes: Lilith Luxe, Veruca James and Charlotte Cross. They aren't featured on the screen in the same time, but two at a time. Veruca couldn't go through the whole session, so her place in the torture game is taken by Charlotte. They are put through some forced lesbian pussy licking and all kinds of dirty things. At some point, one of the babes gets a dildo mouth gag, and she has to fuck the pussy of the other while her pussy is forced to cum.
#1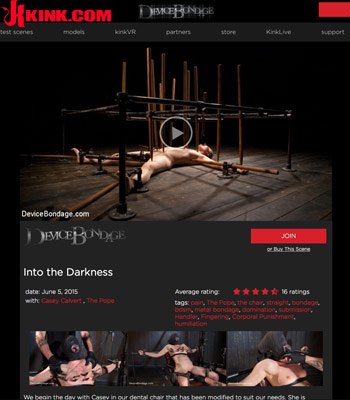 TITLE: Into the Darkness
RELEASE: June 5, 2015
On the first position of our Top 5 Device Bondage Porn Videos by Kink we have a movie that took BDSM torture a little too serious. Everything is perfect in this episode, from the model, Casey Calvert, a young, skinny babe with perky boobs, to the devices, a crazy bounding chair and some kind of an Iron Maiden contraption, but in which the victim is laid on the floor and long spikes are slowly pushed on her body. Even the music on the background of this movie will give you the chills. If you want to hear some of the hottest pain screams of Casey Calvert while she is having an orgasm, check out this movie.