TOP 5 Electro Bondage Porn Videos by Kink
Pain comes in many ways and forms, but one of the most intense and pleasant the body can feel is the electro shock given by someone who knows a thing or two about this part of the BDSM world. If you're interested in finding out more about this fetish, or if you already know and you want to watch some quality electro torture, check out our Top 5 Electro Bondage Porn Videos by Kink. We took a look at the entire Kink.com collection and made a selection of the best electric orgasms we could find. Enjoy each and every one of them as a member! Continue reading →
#5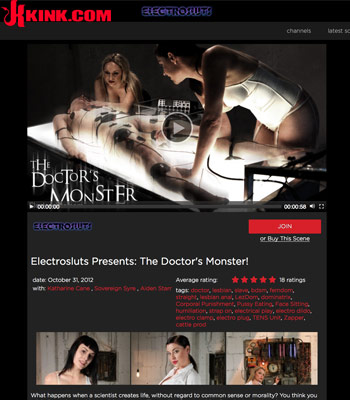 TITLE: Electrosluts Presents: The Doctor's Monster!
RELEASE: October 31, 2012
CAST: Katharine Cane , Sovereign Syre , Aiden Starr
In this movie produced by Electrosluts you will find two dominatrixes having their way with a helpless girl who is laid down a table in a creepy dungeon lab. The movie tries to replicate the legend of Frankenstein's monster, but only the one about the electric shocks the monster needed to come to life. In this case, the slave girl who gets all the pain, needs the electric shocks to feel alive. Sovereign Syre is helping Aiden Starr, who is the doctor, in some kinky research phases during which the Guinea pig is Katherine Cane. I like a BDSM movie with a good story, and this one provides it.
#4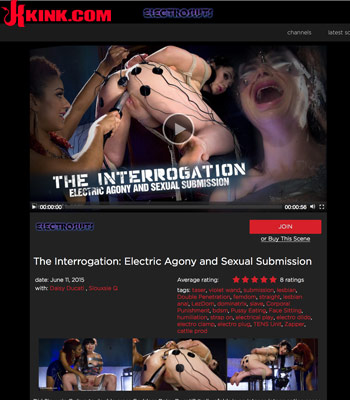 TITLE: The Interrogation: Electric Agony and Sexual Submission
RELEASE: June 11, 2015
CAST: Daisy Ducati , Siouxsie Q
One of the most wide spread uses of electric shocks is in the enhanced interrogation practices. Basically, it can be used as torture, but if used correctly it can be an orgasmic torture that makes any pussy wet. Fortunately for the pale slave Daisy Ducati, Mrs Siouxsie Q is a dominatrix who knows her things about electric torture. Siouxsie Q gives Daisy a torture session she will never forget, during which she shocks every part of her body. She even sends some direct electricity up Daisy's tight and white asshole. The action featues some strap on fucking, feet worshiping, spanking, dirty talk and humiliation.
#3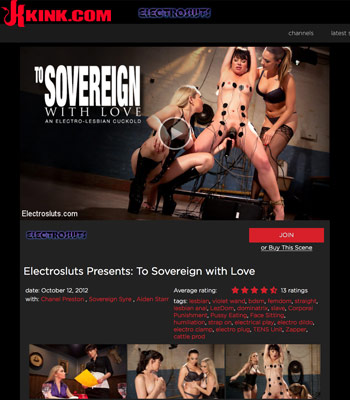 TITLE: Electrosluts Presents: To Sovereign with Love
RELEASE: October 12, 2012
CAST: Chanel Preston , Sovereign Syre , Aiden Starr
On the third place of our top we have another electric trio. In this one Sovereign Syre is getting electrocuted by Chanel Preston and Aiden Starr in a lesbian threeway that features lots of face sitting, spanking, strap on fucking, and of course, electrocution play. But the difference is that at some point, the dominant ladies are just starting to make nasty love to each other, while the poor slave girl is watching from the bed, all tied up and eager to get between them and have some action, But all her wet pussy gets are some mad shocks that make her scream.
#2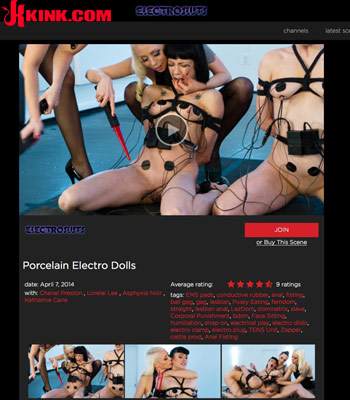 TITLE: Porcelain Electro Dolls
RELEASE: April 7, 2014
CAST: Chanel Preston , Lorelei Lee , Asphyxia Noir , Katharine Cane
Porcelain Electro Dolls is a feature from 2014 in which four famous Kink.com porn stars can be enjoyed. I'm talking about Chanel Preston, Lorelei Lee, Asphyxia Noir, and Katharine Cane. In this movie you will get tow dominatrix masters and two slaves. Chanel and Lorelei are the masters, while Asphycia Noir and Katharine are getting all the shocks while their pussies are being fingered and toyed. The movie also has some forced ass eating and pussy licking, strap on fucking and some crazy anal insertion that causes some serious screams.
#1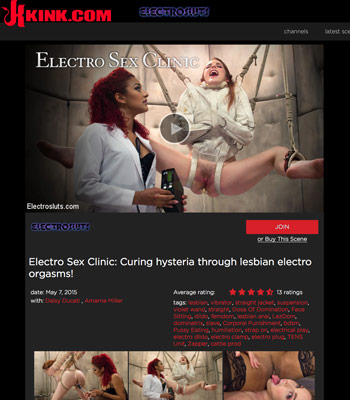 TITLE: Electro Sex Clinic: Curing hysteria through lesbian electro orgasms!
RELEASE: May 7, 2015
CAST: Daisy Ducati , Amarna Miller
We're here, at the first position of our Top 5 Electro Bondage porn videos by Kink, but all the movies so far were worth watching. However, this one is even better. This movie explores the electro shock therapy. Amarna Miller is a helpless patient who finds a cure for her messed up desired and seeks help from Daisy Ducati, an ebony lesbian doctor who loves to play with electricity. The treatment involves lots of electric shocks, the use of industrial vibrators, and en electrified dildo that both of these babes will use in the same time at the end for a shared orgasm that tops everything.