TOP 5 Gay Muscled Porn Sites
On our Top Five Gay Muscle Porn Sites List, we made sure only to get men who have got back from hitting the gym. There is nothing that can make a cock taste better than a little bit of salt. These sites are all unique in theme with some of our bulls coming from the military while others are straight from college and a few are just together. If you think that you have seen enough muscled up men then let me tell you there is much more underneath the sun: Continue reading →
#5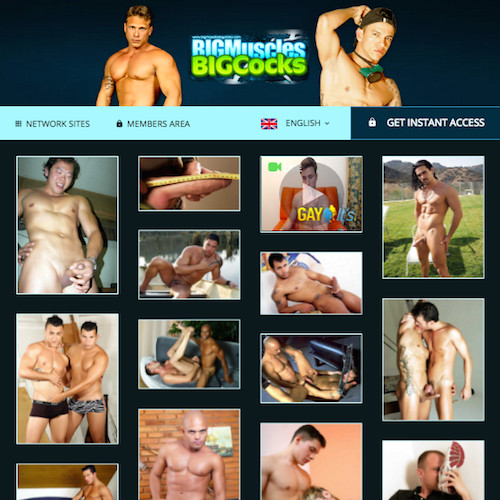 Big Muscle Big Cocks
Big Dicks on Athletic Guys
Big Muscle Big Cocks is a gay porn site that sets the bar high for our next four sites by having free webcams shows to start off. Before you think that this is a scam, like myself did, I can verify that these webcams shows are free but are very amateur quality. It only gets better with multiple video formats, daily videos updates, and access to 5000 DVD is what number five on this list has to offer you. The best part is that all of their guys are ripped and just plow these tight unfit twinks. All of these sites do domination well, but this site puts the extra focus on fit top versus unfit bottom in a way that is hot as hell.
#4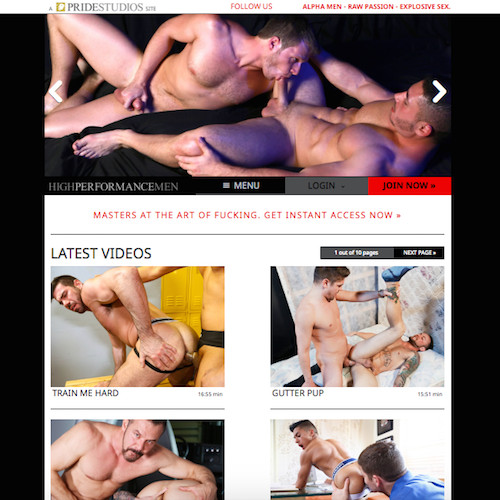 High-Performance Men
Master At The Art of Muscle Gay
So how can anyone now compete with Big Muscle Big Cocks? Well, that is easy. All of the videos on the site is 10 to 20 minutes, so all you need to do is outlast them which is something that High-Performance Men does with a flourish. Most of the videos are 30-minute plus, and you get to see a twink twitching being cum filled and covered. The quality of the site does not even come to question since it is a part of the Pride Studios branch. All of the gay porn sites on this list has strong guys, but no other site has their guys simply out fuck the bottom they are with. Three weekly updates and seven sites will be enough to keep you entertain only the way that Pride Studios can.
#3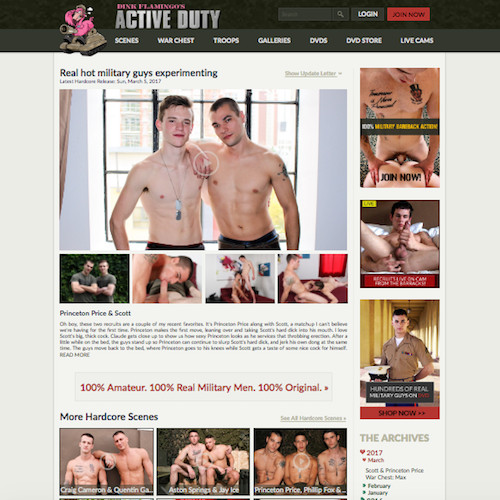 Active Duty
Real hot military guys experimenting
Active Duty earns third because of the rare niche that this gay site is solely dedicated to Active Duty, as the name implies, will always have a guy who was (or even still) serving the military. These guys are pitted against twinks that never exercised a day in their life unless you could taking a hung cock as exercise, and exactly what you expect happens here. The site has been up for 15 years to earn itself 950, and counting, high definition videos of 100% verified military guys. Military kids beware because you might just see your father plowing someone who looks unmistakenly like you. There are two updates a week, but by the time you get through all their videos, they will have a hundred more.
#2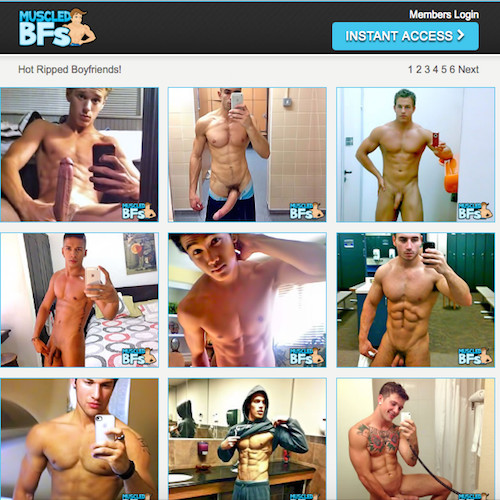 Muscle BF
Hot Hung Muscled Boyfriends
Muscle BF is a gay porn site that focuses on couples in a way that earns it a spot in second in our list. I watch through a pair of the videos and has never seen anything that felt more real. It is a little bit on the tender side but how else do you expect a muscled up jock to treat their little twink the first time they have sex. There is a huge database of user submitted content and a webcam show every single day on top of their weekly updates. If you decide to become a member, then you get access to twenty of the hottest amateur boyfriend sites that I have ever seen. As long as you want your porn to feel real, then this site will have you cumming again and again for more.
#1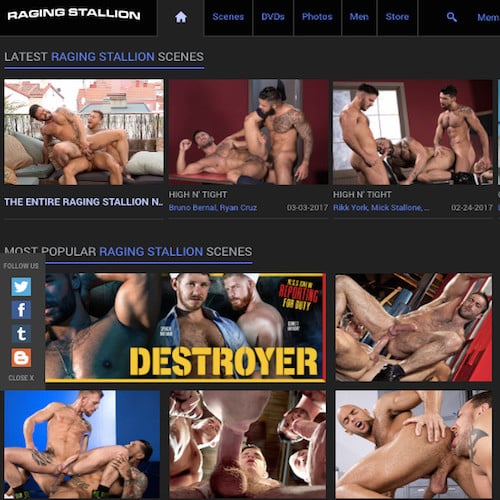 Raging Stallion
The Best Muscled Gay Porn Site
So after all of the previously mentioned high-quality sites then what would you have to do to earn a spot as number one in our gay site list? Raging Stallion can check every box while still managing to add something new to the formula. There are multiple weekly updates, ripped guys, 1080p HD videos, exclusive models, thousands of videos, and one free webcam show a day. So they meet our expectations, but then they are blown with the rough theme that they have gone through all of their videos. Wouldn't a ripped stallion just make the perfect master? Raging Stallion thought so too, and this is how this site came to be.