Top 5 Gay Public Porn Sites
There is nothing that is quite like having sex is public. The thrill of almost getting caught will get you harder than you will ever believe. In our Top Five Gay Public Porn Sites list, we looked for sites where we could safely watch other people fuck. This does not mean that they will not get caught or who knows how narrowly they avoid it. Continue reading →
#5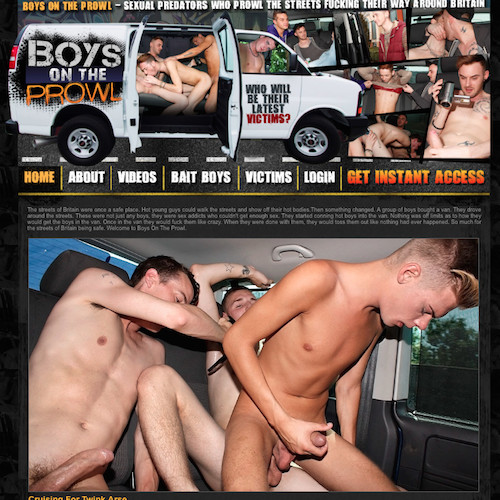 Boys On The Prowl
Sexual Predators Pick Up Strangers on the Streets
Boys On The Prowl is a gay porn site with a gimmick that I would not mind seeing other porn companies copy. The gimmick is simple. There is a bus in Britain that if you are con into getting into then, you are going to take a pounding my a bunch of sex addicts, so group sex is in every video here. They have over 200 videos and counting since this site is relatively fresh-faced, founded in 2016, so there are a few bugs in the system they need to work out before it can excel but for now it is proudly number five on this list and setting the bar.
#4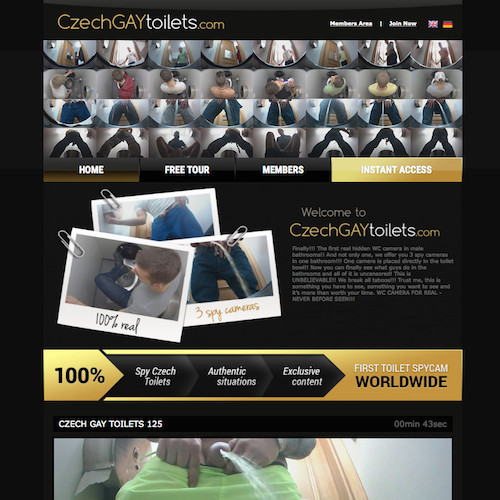 Czech Gay Toilets
The First Real Hidden WC Camera in Male Bathrooms!
Sometimes all it takes is stepping outside of the box to impress someone. Czech Gay Toilets is a site that is not for everyone taste but assuming that you are into gay public porn, or why would you be reading this, then it could be something new for you to try. This is the first, and I am sure only, that gives you three hidden camera in a Czech bathroom. If you have ever been curious about what happens in the bathroom, then this gay porn site has rather impressive collections of videos and photos for you to check out. Otherwise, continue reading.
#3
Bound In Public
Cum Starved Sluts Humiliated and Fucked Hard in Public
This premium porn site gimmick somehow manages to blow Boys On The Prowl's gimmick out of the water then skin it. Bound In Public gimmick is simple yet sexy as sin. Pornstars and something just random people are tricked into being tied up, blindfolded, gagged, humiliated, and fucked in the streets. Why does not anything like this happens where I live!? If there is even a shadow of doubt in your mind that this is not real, then the fact that they not only show you how they tricked them and paid them at the end is not enough then it is all shot from someone camera who gets a turn near the end. This gay porn site is for people who feel as if the world of porn is no longer kinky enough for them.
#2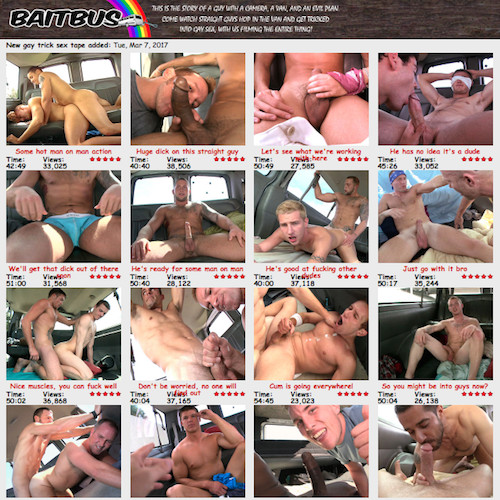 Bait Bus
A Guy with a Camera, A Van and An Evil Plan
Bait Bus takes the gimmick of Boys On The Prowl and turns it into a 2.0 version. There is just some stuff on here that you would have to see to believe but allow me to explain. They are a team of guys who goes around plotting into tricking straight guys into sex rather it from blowing them through a glory hole or tricking them with a bet. There is nothing that is off limit to this site, and that is why it deserved the second on this list. Their extensive collection of free photos also makes this site worth a look.
#1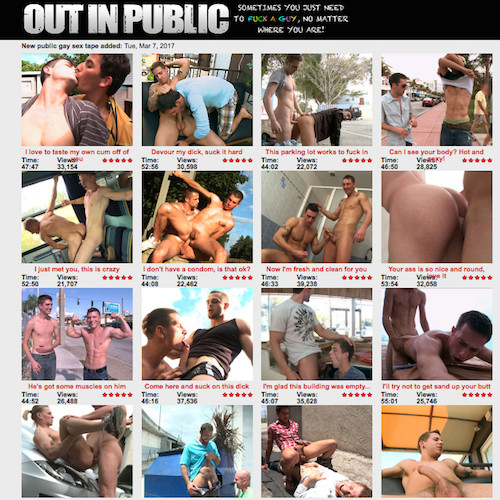 Out In Public
The Best Gay Public Porn Site on Web
Reality Dudes fund the next site, and the quality of this gay porn site is top notch. Out In Public wins first because no place is safe. Bathrooms, gym locker rooms, park benches, parking lots, and anywhere that you can imagine in the public eye then they have twenty reality videos of that place. The best part is that you can tell that they are real because of subtle things like people in the background or the fact that they have to keep their voice down. I cannot hype Out In Public enough; it is just something you should check out with over 5,000 HD videos and triple of that in photos.