TOP 5 Porn Sites Made for Women
If you think porn is just for boys, then these sites will prove you wrong. These sites offer girl journals, sexy straight and lesbian action and all the erotic type of scenes. I guess they offer porn version of "Fifty Shades Of Grey" and you'll need them if you're into hardcore, but sensual porn. They show it from a woman's perspective and most of their content is made by women for women. Now let's take a look at five of the best sites made just for women! Continue reading →
#5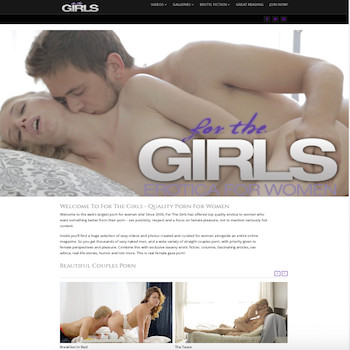 Leader in Porn for Women for Over a Decade
This site is obviously created For The Girls and let me tell you right now – it's made for girls that love dicks. "Hot guys of all shapes and sizes", "hardcore fucking videos, romantic plot-based movies, real life couples, beautiful porn stars and plenty of variety" are the things you can expect to find on this site. Video collection looks great and the photo gallery is even more impressive. Not everything is exclusive, but it's high quality, so you'll get some HD videos and high-res images. You can't grab galleries in Zip sets, though. Updates are added on weekly basis. However, you won't have any bonuses to enjoy.
#4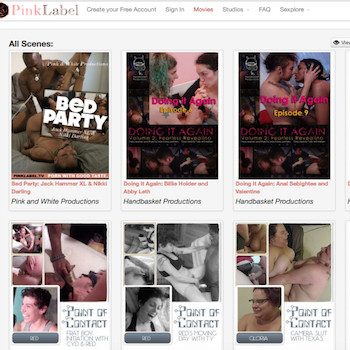 Erotic Films by Indie Feminist
They say that PinkLabel.tv is "is porn with good taste" and one of those sites that celebrate "queer and feminist porn". Therefore, you can say that this site is can offer some great porn stuff to all women that enjoy the company of other women. They have some straight porn, too, fetish stuff and more. As a matter of fact, this site can offer chubby girls and BBWs, lesbian and solo scenes, BDSM, amateurs and pros and more. You can get their movies on demand or you can make a free account and browse all their flicks and then choose what scenes to purchase. Their collection is still growing, but you won't get any bonuses. Instead, you'll get a blog.
#3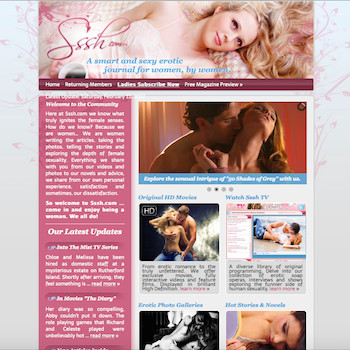 Erotic Videos For Women, By Women
An original website made for women, by women. Sssh.com focuses on straight porn, erotic scenes and sexy fantasies and stories, and because everything is written and filmed by women, this site is definitely made for girls. You can find solo scenes, as well as hardcore scenes that are very glamorous and sensual. The site has been around for almost 15 years and even though the update schedule is not clear, they continue to add new stuff. Video collection is decent and they now offer plenty of full HD scenes. Photo collection is just as good, but you can't download photos in Zip sets. Their community is quite entertaining as well, so although they don't offer bonus sites, it's a nice site made just for ladies.
#2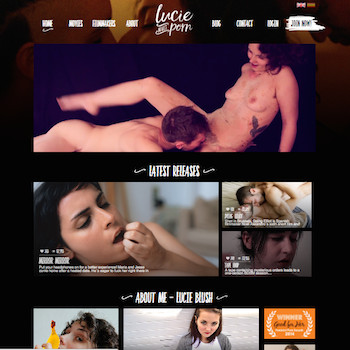 Ethical Feminist Porn Movie by Lucie Blush
Lucie Blush is porn director dedicated to real porn, where you can see real pleasures, where girls are natural and men are not machines. She makes "ethical, feminist porn films that steer away from stereotypes and offer a fun, natural, authentic vibe to porn." She offers straight porn, lesbian sex and even some man on man action. You won't find any porn stars here, but only amateurs and regular people that love having fun and don't mind doing it in front of camera. Video collection is not big, because she focuses on quality of her films rather than on the quantity. Videos can be streamed and downloaded in full HD, and everything is exclusive to this site. Updates don't come frequently, though, and there aren't any bonuses. You can get this site with a great discount on our site.
#1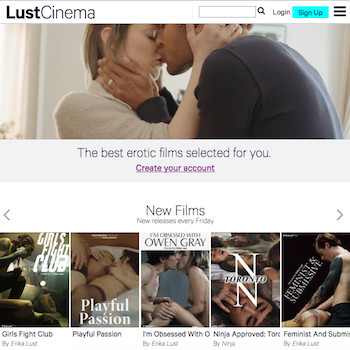 The Best Porn Site Made for Women
Lust Cinema claims to be one of the best porn sites for women and for couples. They offer sophisticated and erotic movies, which are also very naughty and dirty, but they're definitely on the erotic site. Blowjobs, fetishes, anal, bisexual porn, DP, deepthroating and more kinky categories are offered in their movies, and everything looks glamorous. Some of their hottest models are actually some of the most popular pornstars in the biz, so you'll see girls such as Sasha Grey, Lisa Ann, Riley Reid and Asa Akira, to name a few. They've been around for years and now have huge load of movies. Latest videos offer great quality playbacks and go up to full HD, but unfortunately they don't come with photos. They don't offer any bonuses either, but their collection still looks quite amazing and that's why Lust Cinema is on top of our top porn sites made for women.