TOP 5 Women Dominate Men Porn Videos by Kink
There are two kinds of people in this worls, those who like to dominate and those who like to be dominated. And this time we will talk about the men who like it when a woman is in charge and she bosses him around the floor for her entertainment. And since we're talking about a Domination fantasy, we must talk about Kink, the network who knows all about Fem Dom. If you join this site, you will find lots of scenes and series, each with a hot dominatrix or more of them, having their way with the body and naughty parts of a helpless men, putting him through all kinds of kinky abuses, both physical and psychical. So with no furthure ado, here is the Top 5 FemDom Porm Movies by Kink.com.  Continue reading →
#5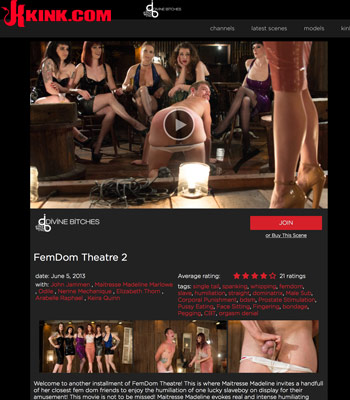 TITLE: FemDom Theatre 2
RELEASE: October 31, 2012
CAST: John Jammen , Maitresse Madeline Marlowe , Odile , Nerine Mechanique , Elizabeth Thorn , Arabelle Raphael , Keira Quinn
We start the list with the fifth position of our top, on which we have FemDom Theatre 2. This series, directed and produced by Divine Bitches, has some hot man domination action, but in its second installment we find a poor lucky dude getting the rough treatment from a merciless dominatrix in a bar, in front of some bossy ladies who want to be entertained. The show starts with some small cock humiliation, then goes on to more extreme stuff, like cock and balls torture, whipping, fingering and fisting, and even some pegging action. The helpless man even gets the foot of the dominatrix up his ass.
#4
TITLE: All Night Cuckolding Fuck Fest
RELEASE: August 7, 2013
CAST: Mz Berlin , Wolf Hudson , Jimmy Broadway
Do you have a cuckold fantasy and you're not going through with it just because it's something new and scarry? Well, you can watch a scenario like that in All Night Cuckolding Fuck Fest, a scene in which a husband gets to watch his wife fucked by another man for the first time. The action features Mz Berlin as the wife and Wolf Hudson as the young guy with big cock who gets to fuck her while the husband is forced to watch, and it's even forced to suck the dude's dick after it was in his beloved wife. The performance is great, and the old guy who plays the cuckold managed to put on all the emotions you might feel when that happens for the first time.
#3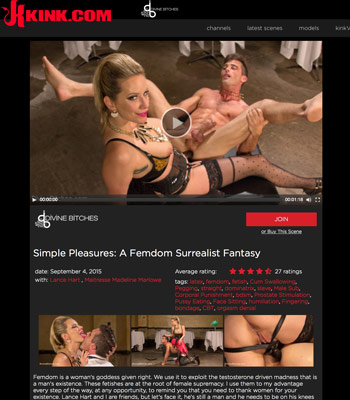 TITLE: Simple Pleasures: A Femdom Surrealist Fantasy
RELEASE: September 4, 2015
CAST: Lance Hart , Maitresse Madeline Marlowe
This scene is for all the boys who are not afraid to let the queen of their lives put on a big black dildo and drill their sorry asses with it. If you ask about me, this is one of the hottest FemDom pegging videos I've ever seen. Maitresse Madeline Marlowe, who is very natural when it comes to anally ravishing her fuck boys. Lance Heart, the young and pretty man who gets the strap-on is also a great talent and casting him was surely a good idea for this movie.
#2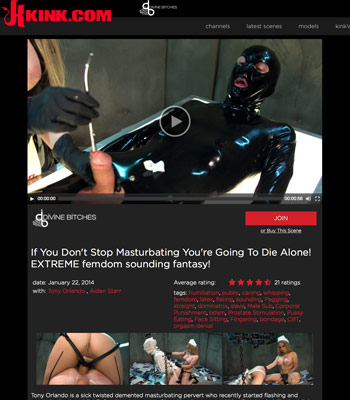 TITLE: If You Don't Stop Masturbating You're Going To Die Alone! EXTREME femdom sounding fantasy!
RELEASE: January 22, 2014
CAST: MTony Orlando , Aiden Starr
Ok, maybe Kink.com overdid it with the title for this movie, but the name depicts exactly the vibe of this production. In this long titled scene Aiden Starr is a dominatrix, but as a rehab specialist for pervs. Her patient is a helpless perv who can't stop jerking off and who does it even in public with other people watching. Her treatment is one he will never forget. She ties him up, puts him in a full body latex suit, fucks him in the ass and even pushes a metal rod down his pee hole whilst jerking him off. It's painful just to watch.
#1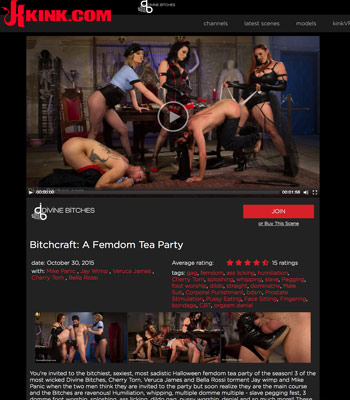 TITLE: Bitchcraft: A Femdom Tea Party
RELEASE: October 30, 2015
CAST: Mike Panic , Jay Wimp , Veruca James , Cherry Torn , Bella Rossi
On the first position of our top we have the best FemDom party that's ever been filmed. I like the atmosphere in this movie. There are two boys who are getting destroyed, but the three mistresses doing it are having a lot of fun during their nasty tea party. Ropes, lots of toys, hot and kinky outfits, humiliation, paddling, cock and balls torture, pegging, and much more has befallen on the poor two pretty boys in this movie.