Captain Marvel XXX: An Axel Braun Parody
It's been a while since we had a pleasure to review a top-notch parody such as this one. Captain Marvel XXX: An Axel Braun Parody is the latest parody by one of the best directors in porn – Axel Braun. This is his 60
th
parody and once again there's a Marvel's superhero in the spotlight. The girl from the cover photo - Kenzie Taylor, is in the leading role and she's looking gorgeous. The casting was amazing once again, so besides Kenzie we can see gorgeous babes in some pretty intense hardcore scenes, including the likes of Ana Foxxx as Monica Rambeau, Lacey Lennon as Jean Grey and transgender superstar Aubrey Kate as the Supreme Intelligence. These babes wear sexy, rubber outfits that always stay on, and they definitely look like cosplay fans' dream come true. The costumes, the music, the story – everything looks authentic and is very close to what we see in those Hollywood superhero movies, so there's a great chance that you'll enjoy watching this movie!
About The Movie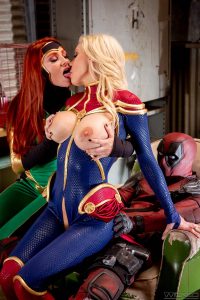 Captain Marvel aka Carol Denvers is a superhero that has lived in the comics for decades, but the people that haven't seen her in the comics probably know her from 2019 Marvel movie with the same name and the all-time highest-grossing superhero movie Avengers: Endgame. She's something like Supergirl from the DC universe, the superhero
Axel Braun
has already worked with a few years ago. After a full year after his last parody, award-winning director has surprised us with another amazing parody that spoofs another popular superhero and once again there's a hot blonde in the leading role. Captain Marvel has many powers, but in this XXX parody her main superpower is to extract huge loads of cum from some hard dicks. Axel Braun has already proven that he can transform any superhero story into a porn parody and make it as entertaining as possible, which is exactly what he did with Captain Marvel. A few months after we watched her in one of the best superhero movies ever, we can now see how she handles different kinds of threats in the XXX universe, including
well-hung aliens, big black cocks, tranny dicks and more
nasty stuff.
Kenzie Taylor
is a talented and experienced performer, so I guess she was the right choice for this role. You can see her in each scene, which means 6 different sexual scenarios, including
boy/girl anal, FMM threesome, interracial blowjob, sex with a T-girl, interracial lesbian and FFM threesome
. The costumes and the scenery in porn parodies is getting better and better each year, especially the ones that make Axel Braun and Wicked Pictures. As always, the costumes stay on the whole time, so the guys just pull out their dicks and bang the girls and stay in the character the whole scene.You'll see a bunch of interesting costumes as Captain Marvel encounters many different characters from Marvel's comic books, such as
Nick Fury, Monica Rambeau, Supreme Intelligence, Deadpool and Jean Grey
. The special effects are also quite decent, and the music is even better. Once again, you can see condoms being used in Axel Braun's scenes, which is something you see in all his movies, so that's no surprise.
Scenes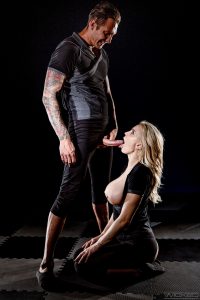 After waking up from a nightmare, Carol Danvers (Kenzie Taylor) meets an alien guy who's more than willing to help her feel better. They first spar a bit, but when the things heat up the couple starts kissing, and in a blink of an eye she's sitting on his face. There's some
cock sucking and pussy eating
, before she takes his cock
in the ass
. At the end he cums all over her mouth – very hot. Next scene shows our beloved Miss Denvers exploring some alien territory. A couple of horny aliens spot her and decide to bang her, so we get to see
a naughty three-way
. She shows she can suck and deepthroat, and the entire time her pussy and mouth are filled with big dicks. The scene ends with a couple of cumshots on Carol Denvers' tits. The third scene shows
Carol
coming to Earth and meeting
Nick Fury
. They become really good friends as he helps her figure out where she's end up and leave the crash site. She's very thankful for the help, so she gives him a nice
blowjob
in his car.
After leaving Fury's car Denvers passes out and wakes up at the Supreme Intelligence's (Aubrey Kate) place. Aubrey is a pretty naughty girl and is obviously pretty hot for Carol, so she bangs her brains out. It's the first time we have a transgender star in a porn parody and it's pretty sexy. This is when Carol actually becomes Captain Marvel and starts wearing her tight blue suit. Next scene shows Captain Marvel and Monica Rambeau (Ana Foxxx) getting down and dirty at some abandoned shed. There's some hot pussy licking, ass eating and fingering here, followed by some hot squirting by Ana Foxxx.
The last scene is worth the wait, because it's when Captain Marvel meets Jean Grey (Lacey Lennon) and Deadpool (Seth Gamble). Seth reprises his role as Deadpool, and once again gets to fuck two amazing girls. This time he shoots with his real-life girlfriend Kenzie Taylor and sexy redhead Lacy Lennon. There's cowgirl riding, pussy eating and fingering before Deadpool spills his juices all over girls' tits and they share a cum kiss.
Final Thoughts
Captain Marvel is as entertaining and sexy as any porn parody fan would want it to be, so it's definitely a must-watch parody. It's also one of the best movies in 2019 thanks to amazing cast and great costumes. The effects are great for a porn movie and both sex and non-sex scenes in this movie look very entertaining. They did a great job when they picked the pornstars for this movie, and you can see all types of hardcore scenes in this one, including anal, threesomes, lesbian and for the first time transgender girl banging a girl. It's a must-watch parody!
Date posted: November 13, 2019