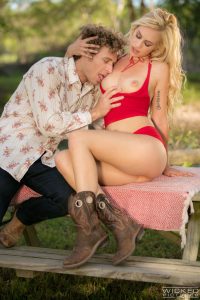 Unbridled is a passionate story of a southern girl and her love for the horses. Unfortunately,
Avery Montgomery (Stormy Daniels)
lost her horse in an accident, gave up riding and moved to New York. A decade later her family's ranch is being auctioned by the bank to cover some loans and she wants to stop that from happening. The only way to do that is to
win the Big Star Horse Trials
, so she has to go back to Texas and face her demons. The things are about to get complicated as she has to face her
old trainer Grant Meyer (Marcus London),
fellow ranchers and her
sister Joey (Lyra Law)
who has a secret that could ruin everything. This beautiful movie was written and directed by
Wicked's legend Stormy Daniels
and it's something you should check out if you like passionate and hardcore movies. The opening scene shows busty
Avery (Stormy Daniels)
and
her partner
celebrating some of their achievements and they celebrate it by
having steamy sex
. Her boobs look amazing as she rides that cock, but she doesn't get her tits jizzed as her hubby drops a
load of cum on her pussy.
Back in Texas
Joey (Lyra Law)
sneaks out of the house and meets her
boyfriend
, but they don't fuck that night. They wait until tomorrow so they can throw a picnic and fuck like crazy in the middle of the day. Lyra's
red panties
will make you horny instantly, as well as her moaning and her
perfect body
. Once again no facial, as her BF
cums all over her sexy bush
.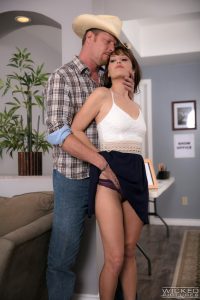 Joey ends up in hospital after a horse ride accident and her sister Avery comes to hospital to visit her. That's when Avery learns that Joey won't be able to compete in the tournament to save the ranch from being sold at the auction. In the next sex scene Avery's old trainer
Grant (Marcus London)
is in the bed with a
curvy hottie (Rachel Starr)
. They get to the point very quickly, so you can expect good old one-on-one banging with lots of
muff eating, cock sucking and pussy plowing
. At the end of the scene Grant spills his juices all over Rachel's big, pierced and beautiful nipples. Avery meets Grant in the bar and you can see that they're still into each other, but we don't get to see them fuck just yet. First we get to see slutty girl
Sally (Alana Cruise)
fuck Avery's cousin. He
fingers her pussy hard
before sticking his pole inside her. He fucked her just the way she wanted before spraying her belly with sticky jizz. The last half of an hour is dedicated to the horse race and Avery's relationship with Grant. Avery's about to get back to New York, so
she wants to say goodbye to Grant
, and as we all expected she does that by
sucking his cock and balls and offering her pussy to him
. They've been waiting for this for a long time and the
sex is pretty
intense and passionate
. They concluded this story pretty well and Stormy did a great job both as a performer and as a director of this movie.
Date posted: September 3, 2017