TOP 3 Sites Similar to BangBus.com
BangBus.com is one of the first porn sites that offered porn on wheels. They were the first big site to feature only movies shot in moving cars. In 2001 when the site launched, there were no small mounted cameras. Everything filmed had to be shot with a big-ass camera and an operator. So if they wanted to shoot car porn they needed a bus. The site is still relevant today. Lots of famous porn stars have sucked cock and got their holes gaped in this van while it was driving down the streets of Los Angeles. The collection has over 700 movies and after all this time, there are still new movies being uploaded. But this premium site launched an entire genre. Let's take a look at the best three other sites that can offer porn shot in moving vans. Continue reading →
#3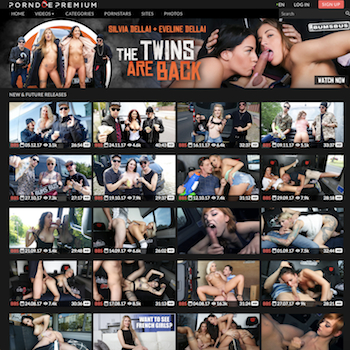 On the first position of this mini top we have a porn site coming from the network Porn Doe Premium. It's the largest premium site in this genre after Bang Bus with some 80 movies uploaded so far, it is still active, and it comes with regular uploads. The movies are shot in a nice black van and the models are all euro sluts. Porn Doe Premium is a German network, which assures you that the movies on this site are dirty and hardcore. How dirty, you ask? Well, this site brings you lots of anal, threesomes, chocking, slapping and spanking. The collection features a couple of movies in which you can admire a threesome with twin slutty girls, and in some movies, you will watch German fisting sessions in the back of the bus. Basically, this site is the closest to Bang Bus when it comes to type of porn, but the action is Germanified, which means dirtier sex. The site also brings you full access on the Porn Doe Premium network.
#2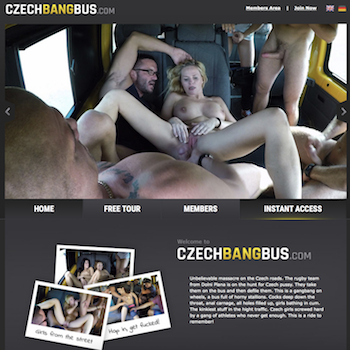 Czech BangBus
Czech Bang Bus is not just a Czech copy of BangBus. It's way more than that. Czech Bang Bus doesn't come with just sex. It comes with straight-on gang bangs on a bus. Well, that's something only the Czech would try. And the girls are not just fucked by some guys with beer guts. They step in the yellow bus of a rugby team who are sharing their pussies and asses before cumming all over their faces. Most of the time we're talking about a single babe fucked by the team, but there are some movies in which two sexy Czech amateurs are trying their first gang bang on this bus. The videos are just as naughty as everything you see on American sites, with cum swallowing facials, anal and double penetration. This is one of the newest sites in the Czech AV network, the best known Czech network on the internet. Because it's new it doesn't have so many videos, but you definitely want to check it if you want some bus gang bangs.
#1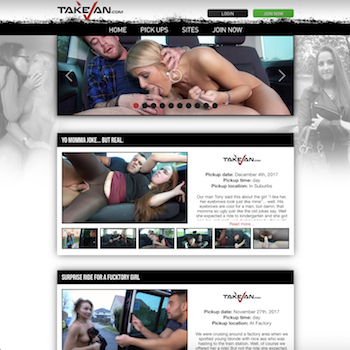 On Take Van you will find a different approach of the genre. This is a new porn site, so they stray away a bit from the traditional gonzo porn. You should join this site if you want something a bit different from your bus sex videos. It tries and kind of succeeds to give a story to this fantasy. And the story in each movie is that the girls are genuinely ask to for a ride, they agree to pay for it with ass, they get fucked hard in the back of a moving van and because they are so slutty, the guy who took advantage of their situation throws them out at the curb with no clothes. All these babes are Czech and the entire action takes place in the Czech Republic. The site comes with some 40 movies, because it's quite new and it is part of the newest Czech network called MMP Network. With this membership you will get a great bonus with even more Czech babes. Definitely one of the best alternatives to the original Bang Bus!