TOP 5 Public Humiliation Porn Vides by Kink
For most girls, being dominated, abused, and humiliated is quite the turn on. But most of them want to do it behind the close doors, where nobody could see how degrading they really like to be treated. However, for some horny sluts, the degradation and humiliation comes right when they are exposed to the public. If you want to see some humiliation sessions of some helpless sluts, you should check out the Kink collection. If you want the best scenes, watch any of the Top 5 Public Humiliation Porn Videos by Kink. Continue reading →
#5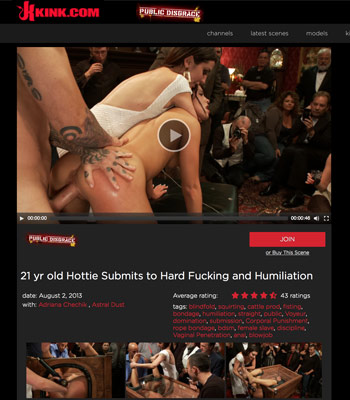 TITLE: 21 yr old Hottie Submits to Hard Fucking and Humiliation
RELEASE: August 2, 2013
I admit, not the most creative title, but a honest one that really depicts what this young babe goes through. She is made the sex toy of an entire party. Men and women who love to abuse the body of helpless sex torture victims are lining up to fuck, spank, and talk down to this little slave, shove huge toys in her pussy and spit on her pretty face while she screams. When you'll watch this video you would want so bad to take part in such a party, where they offer pure quality entertainment.
#4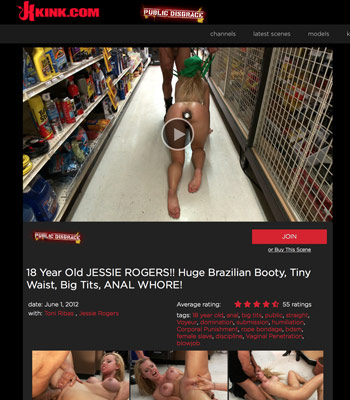 TITLE: 18 Year Old JESSIE ROGERS!! Huge Brazilian Booty, Tiny Waist, Big Tits, ANAL WHORE!
RELEASE: June 1, 2012
In this movie produced by Kink.com we have Jessie Rogers, back in 2012 when she was barely legal. Even though she was 18 she accepted to be the victim of a public disgrace fuck that took place in the back room and on the aisles of a hardware store. Her ass got fucked with zero merci, she had her pussy fingered by the big mans of a savage dude until she squirted all over the floor, and she was even destroyed by a baseball bat that went right up her ass under the thirsty looks of everyone around.
#3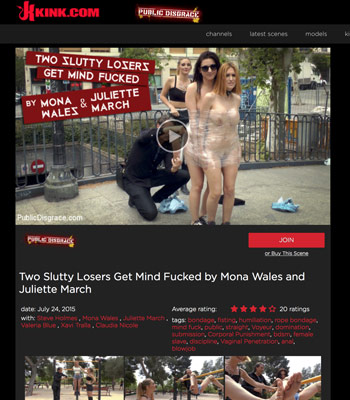 TITLE: Two Slutty Losers Get Mind Fucked
RELEASE: July 24, 2015
CAST: Steve Holmes , Mona Wales , Juliette March , Valeria Blue , Xavi Tralla , Claudia Nicole
Want some real public humiliation, like on the streets of a big European city. Well, this movie is where you'll get to watch that. In this installment from Kink.com you will watch two sluts getting the real deal. They are stripped naked on the streets in broad daylight, then their bodies get wrapped in plastic. What follows is a slut shame walk down the streets. One of them is forced to bark like a dog. Not only that, but after all this public disgrace, the sluts are taken in a basement where a gang of boys and girls are having their way with their bodies in a savage gang bang that ends with a bukkake.
#2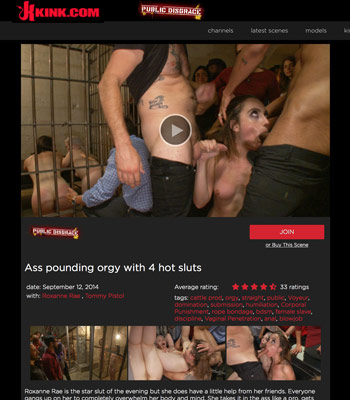 TITLE: Ass pounding orgy with 4 hot sluts
RELEASE: September 12, 2014
You might say that an orgy doesn't count as public disgrace, but what if the orgy is happening in a prison, the sluts are four helpless prisoners who are presented to a gang of horny men and ladies who want to have their way with some slaves? Well, then you can count it as public disgrace. In this orgy the four sluts are fucked in the ass, deepthroated, walked around in chains, and some ladies from the crowd are fisting their pussies. They are also forced to lick each other's asses, all in a very disgracing manner.
#1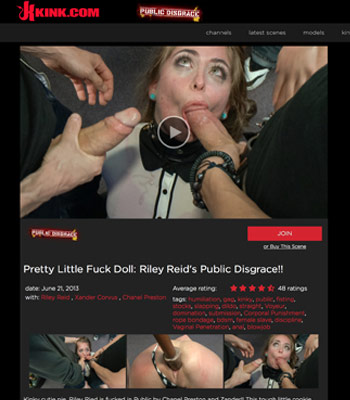 TITLE: Pretty Little Fuck Doll: Riley Reid's Public Disgrace!!
RELEASE: June 21, 2013
We feature this scene on the first position in our Top 5 Public Humiliation Porn Videos by Kink because it has Riley Reid in the role of the fuck doll. In case you didn't know, she is one of the toughest petite porn stars out there. Riley might be skinny and fragile, but she can really take a massive pounding. Watch this movie and see her being hit hard over her face, getting her ass drilled, being chocked while she jerks off two cocks in the same time, and getting used for the dark amusement of a gang of boys and a lustful dominatrix who joins her in a crazy gang bang in the back of a hardware store.