TOP 3 Sites Similar to Throated.com
If you are a rough guy, then you sure love to feel your dick deep down a girl's throat while she gags and tears up. Some of the best movies that will satisfy this dirty need you have can be found on Throated. Here, the girls are wearing lots of mascara, they open up their throats, they are sloppy and messy, and they love to get their face slimed up with their spit and the fresh cum of the guy that face-fucked them. Throated is a site powered by My XXX Pass and it features over 600 rough deep throat porn movies. What makes this site so cool is the fact that the girls here are some high class models. Even Sasha Grey was face-fucked for the Throated collection. If you want to watch more merciless guys torturing the throats of helpless babes check out these three sites alternative to Throated.com Continue reading →
#3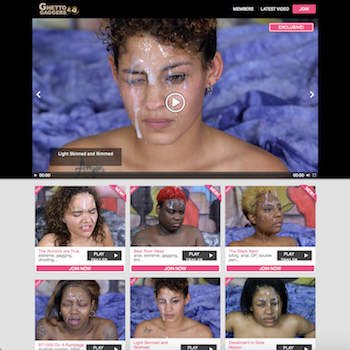 Ghetto Gaggers is an ebony face fuck pornsite, where you can find real ghetto girls who are looking to make some quick cash by accepting to get humiliated in front of the camera by some really mean guys. Compared to this, the action on Throated can be considered lovemaking. These movies feature rough sex, slapping, spitting, spanking, chocking, some loud gagging sessions with dicks that go so far down the poor girls' throats that they puke all over their boobs and face. Some do it in a dog bawl and they are forced to eat it up. This is deep throat degradation with ebony ghetto girls. But everything is well planned and staged, so don't get the wrong idea. Ghetto Gaggers has 500 of these movies for you, and once you sign up you will get access to the entire Ghetto Doorway network, which has a lot of more disgrace porn on sites like Ebony Cum Dump, Porn Addict and Fuck Me POV.
#2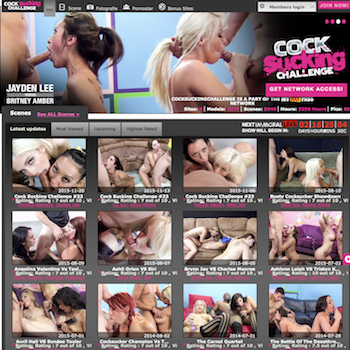 Cock Sucking Challenge takes deep throat and delivers it in an interesting way. The movies of this premium site are featuring two or more girls and they have to compete for the best cock sucker. The winner is the one who can jam the entire cock down their throat for the longest time and in the dirtiest way. Sometimes, they have to compete on different cocks but sometimes they have to fight over the same cock in an awesome POV threesome deep throat experience which can be watched in 4K. Just like Throated, Cock Sucking Challenge is also part of the My XXX Pass network, which means that if you join any of these two sites you will get the other free, but you will also get sites like Only Teen Blowjobs, 1000 Facials, Mommy Blows Best and Immoral LIVE where you can watch live sex shows with your favorite porn stars.
#1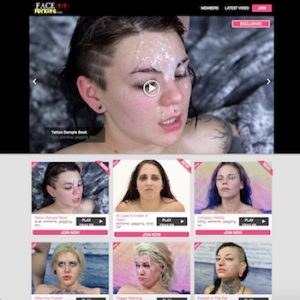 Face Fucking is just like Ghetto Gaggers but here you will find girls of all sorts, including white, Latina and Asians besides Ebonies, but the action is just as hardcore and disgraceful. The poor girls get shared between two guys in a rough threesome that involves double penetration, abusive dirty talk and lots of spit, cum, puke and piss all over their faces and bodies. The girls scream and cry, but in the end they are doing this in a control environment and they have a safe word which can be used to stop everything immediately. There are over 500 movies on this site and the membership brings you access on the entire Adult Doorway network, which features eight other sites that include Joe The Pervert, Nasty Little Facials, and Busty Amateur Boobs.