Top 5 Horror Themed Porn Sites
Horror porn is not for everyone. Horror porn is for the men who are into really hardcore stuff, things that would be considered offensive and too cruel for anyone else. This kind of porn is not for every prn star either. The babes who agree to play in horror porn are always getting completely ravished. The guys fucking them are merciless and there's a lot of pain going on, making them scream and cry. Horror porn is not meant to scare the viewer. It's more like a nightmare for the girl who plays in it. And that's why you want to watch it. We have nightmare porn collections for you in this Top 5 Horror Themed Porn Sites. Continue reading →
#5
Severe Interrogation of Women
BDSM Prison is a dungeon where helpless girls end up after they've been caught with prostitution, robbery, or just being sluts. I don't know what kind of town these girls live in, but the guards seem to wear some kind of German uniforms. I'm not saying that this is a Nazi sex prison, but it sure resembles one. And the BDSM training with all the sex torture sure is scary. The girls are tied up on chairs, suspended by ceiling or just lying on the cold floor, while two men, one in a doctor coat and one in uniform, plus a lady general that's a dominatrix, are punishing them with all kinds of crazy sex toys, water torture, verbal abuse, slapping, and more.
#4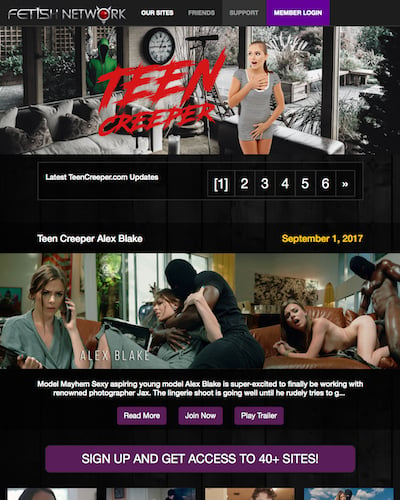 Alone Teens in Horror Scenarios
Fetish Network has even more horror stories with teens in dangerous situations that end up with them getting ravished. This time is Teen Creeper, a site on which hole alone girls are getting forced fucked by burglars who break into their homes. With a mask on, but also with a raging boner on, those crazy bastards are getting through any door or window, as long as on the other side there is a young girl with a tight pussy that can be traumatized by their huge dicks. This porn site also features some black men in interracial horror stories, but also badass guys who manage to force two girls in the same time into painful threesomes.
#3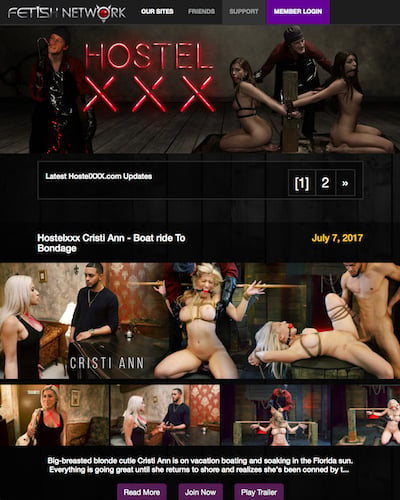 Pay for a Night with their Bodies
Hostel XXX is the third site in this top that brings hardcore horror movies from the same Fetish Network that brought the last two. In this case, the girls are tortured and fucked raw in a hostel ran by some psychos. They come for relaxation and they end up in a horror story, abused, roughed up and forced fucked by brutal beasts who are showing no merci. This site features bondage torture, crazy insertions of toys and other dildo shaped objects, and some crazy fuck sessions with deepthroat, anal and screams. The men who run the torture hostel are the same guys who are abusing girls on Teens In The Woods and Helpless Teens which are included in the Hostel XXX membership.
#2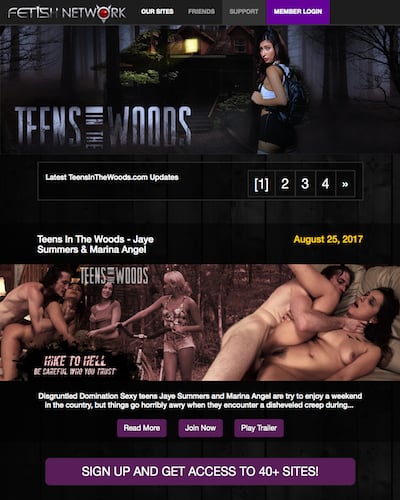 Bring Teens Horror Bondage to the Next Level
Another horror porn collection that's new and extreme comes from the same Fetish Network that brought us the first porn site of this top. Teens In The Woods comes with a different plot, but the action is just as hardcore and painful for the young porn stars. On this sites, girls are getting lost in the woods, where a ranger finds them, lures them to his cabin, where they fuck them in some of the most heinous and degrading ways. It's hard to believe porn stars would sign up for something like this. But you should sigh up and get the Teens In The Woods membership, because it will bring you access on the entire Fetish Network as bonus, including on the first site, Helpless Teens.
#1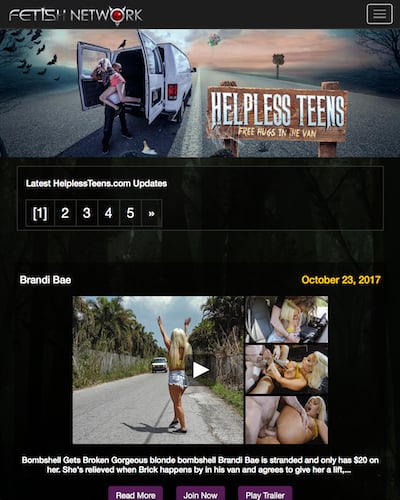 The #1 Horror Themed Porn Site on Web
Helpless Teens is one of the newest sites in the Fetish Network. This network understood that it's not just the pain in the movies that makes men love hardcore porn, it's also the scenario. That's why they came up with a horror plot that are the nightmare of any hot young teen. On this site, the models get kidnapped in a van and they get fucked by some guys with big dicks who are not holding anything back. Hair pulling, raw anal, slapping, face fucking and verbal abuse are things these young damsels in distress have to go through for your satisfaction. Helpless Teens comes with even more horror porn as bonus!