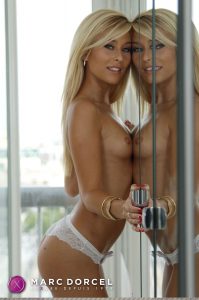 There is just a special kind of talent that a pornstar needs to have where everything she is in was better or just as good as the last thing she was in which describe Lola Reve to the T. Almost over eighty percent of her content was distributed by the people at Video Marc Dorcel. One of her first films has been circulated by them and made in the year 2013 under the name of French Maid Service: Lola At Your Service. Road Goes On Reloaded Episode 2 - Consummate was the latest film that she made in the year 2016 and distributed by the people at vivthomas.com. Now do I think that she is going to release anything new? Well not really. She had a successful go and was only in that one movie last year with her work in the previous years dwindling.
Quality Over Quantity
Now, remember one studio made eighty percent of her content? Well it seem that every single she worked with them beside twice they have asked her to take it in the ass as seen in such film as Pornochic 24: Ariel and Lola, Novice Lawyer, Married Women, Russian Institute: Lesson 19: Holidays at My Parents, French Maid Service: Lola At Your Service, Debauchery Mansion, Footballers' Housewives, Prison, Anissa and Lola At Nurses' School, Manuel's Fucking POV 2: Paris Edition, Pornochic 26: Lola Reve, Lola the Virgin, and Orgy Initiation of Lola.
All That Is Known Is Her
The only interview that was out there of her seemed as if it was copied and pasted using information from Freeones and IAFD. The writing is pretty bad with misspellings, spacing issues, and comma splices out of the arse. There is not much of note here besides a few predictions that she will release some lesbian content this year. At the very least it tells us her career started thanks to one Herve Bodilis at a swingers club. Read the interview if you want, but I already told you everything that is interesting about it.
Date posted: May 2, 2017