An Escape From Harsh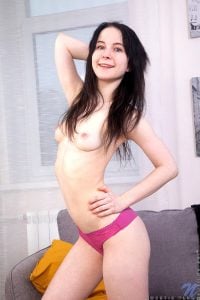 Amidst the striking beauty of Moscow's grand architecture and bustling streets in the 2000s, the harsh realities of life for many citizens remained a constant reminder of the country's deep-rooted struggles. The escape was necessary, and some looked for it on the western horizon; one of them was Sweetie Plum, a young Russian woman born on June 30, 1999. Even though she went to college, she did not need an epiphany to understand the possibility of a grim future in Russia. She wanted out, and she wanted out fast, and what is faster than a ticket to Prague, Europe's porn capital? It is just peculiar that one escapes the harsh scenes only to enter even harsher.
To Harsher
Sweetie Plum entered the industry in late 2019, with one of her first videos being for the studio First Anal Quest, where she shared the spotlight with Oliver Trunk (Very First Painful Anal Fuck for Sweet Butterfly (2019)). The girl's alabaster skin glowed in the shower's warm light as the gentle droplets prepared her for a harsh treatment she enjoys. It is not frequent for an adult star to go all in with kinkiness, but Sweetie sure did it, allowing Oliver to take it all out on her. The show of brutality did not stop there and has only shown itself as a pattern for almost all of Sweetie's scenes. This is true for nearly all of the 120 staggered scenes she has shot until December 2022.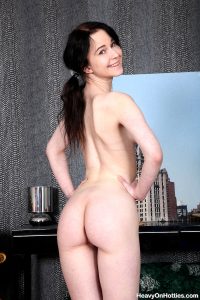 She filmed most of these for Legal Porno, N.F. Studio, Gonzo, and Giorgio's Lab. Sweetie has also partnered up with many notable actors, some of them being Martin Spell (Caught a Stepsister Watching Porn (2020)), Erik Everhard (Fresh Face Model Facial (2021)), and David Perry and Josh Jo (Twerk to Work (2022)). The audience can spot right away that this is a talk about a determined girl. Throughout her adult acting career, she threw herself into a wide range of roles, pushing herself to the limit. However, it seems that Sweetie will ultimately find herself settling into the realm of average performers. One of her more gentle scenes for Beauty4k (Naked Cutie Tests Her Skills (2020)) could be worth watching. She takes on the role of a student who studies hard and craves relaxation. Lucky for her, books aren't the only thing around.
An Armature Gymnast
Sweetie is as much of a workaholic as you can get, but when she allows herself some leisure, it is all gymnastics. This Russian armature gymnast can stun onlookers with astonishing demonstrations of flexibility. She can stretch her body to the limit, demonstrating that genuine talent knows no bounds—basically a description of her adult acting career.
Date posted: August 28, 2023