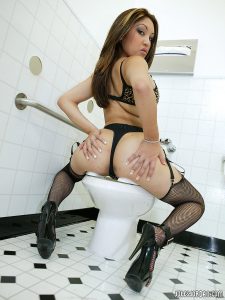 Nautica was born in Oahu, Hawaii on June 13, 1984. She is half Japanese, a quarter Puerto Rican, and a quarter Hawaiian, which seems like the best possible combination for a gorgeous and sexy woman. Her mother was a secretary, and her father was in the construction business. At the age of fourteen, Nautica had sex for the first time.
In her younger years, while she still lived in Hawaii, she used to work in promotion and marketing. At the age of sixteen Nautica relocated to California where she worked at a coffee shop and in several Melrose boutiques.  She has stated that ever since she was a little kid, she already knew she wanted to be a stripper. After her eighteenth birthday, Nautica started working as a stripper and moved from dancing to nude modeling. Very soon the nude modeling turned into masturbation sex scenes and then in hardcore porn scenes.
Nautica's official beginning in the porn industry was 2002 when she was mostly focused on girl on girl and fellatio scenes. When she finally decided to start shooting hardcore boy to girl scenes, Nautica faced a busy schedule. She worked every day and later she has stated that the tempo of work actually killed her and that she was constantly getting yeast infections and was suffering from torn vagina.  Her super fast paced tempo of work made her test her blood twice a month (instead of once, which is the case with most porn stars). After a while, she limited her work to only five or six scenes a month.
Thorn was a cast member of the Fox Network reality TV show My Bare Lady. She also had a brief appearance in the 2007 comedy film, Knocked Up (she plays a lap dancer).  Nautica was also a mainstream model for fitness clothing and lifting weights.
Date posted: August 21, 2017