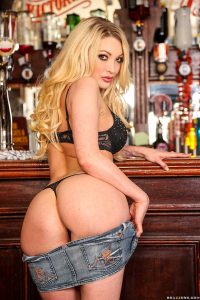 The blonde English vixen was born on March 27, 1989, in London, England. Tamara has the measurements and height of a super model, but she decided to find her career path in the adult entertainment industry.
The twenty-eight-year-old lady has started her career in 2010 when she was eighteen-nineteen years old. Tamara is incredibly sexy and has the deepest blue eyes you have ever seen, making her even more desirable and provocative. Within the past seven years, Tamara has shown incredible talent and passion for her performances. So far, her fans were able to see her perform in genres such as hardcore, POV, threesome, cumshot, and interactive porn.
Tamara has enhanced her breasts with silicones and her current cup size is 34C. Being tall, beautiful, blonde and extremely talented porn performer brought her a loyal and constantly growing fan base. She has more than fifty thousand followers on Twitter where she constantly updates her fans with tweets and photos of her personal and professional life.
Tamara is a real bad girl who loves tattoos and has inked her body with several including one on her lower abdomen, one on her left wrist and one on the back of her neck. She also has several piercings including one in her right nipple, one in her tongue and one in her navel.
Date posted: August 19, 2017