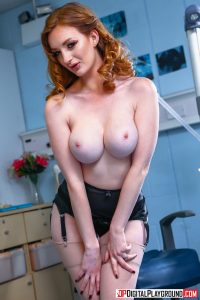 Zara DuRose was born in Hitchin Hertfordshire, England on June 24, 1990. Being a pretty and sexy girl, Zara found her way to the modeling world in her teen years (age 18). Very soon, the mainstream modeling was substituted with fetish modeling which progressed towards the adult entertainment industry in 2012, when she was twenty-two years old.
Zara started her career as a porn star in 2012 and worked for notable UK adult film companies, but also for European fetish websites. Her provocative pictures appeared in some of the most popular and notable UK magazines. Zara also received Paul Raymond Newcomer nomination in 2014.
The foxy redhead can be seen often performing dressed in latex and sexy lingerie; her most famous scenes are done in genres such as threesome, vintage, stockings, BDSM, fetish and so on. Besides performing, Zara also poses for erotic magazines, often dressed up as a dominatrix or sexy vintage housewife.
When she is not posing or shooting, Zara works as a professional mistress and can be seen on various fetish events in London. She also appeared in a video for a band called Magic Eight Ball, where she played the dominatrix who got her own back.
The English ginger lady loves tattoos and has decorated her body with a couple, including one on the right side of her belly and one on the inner side of her left wrist. Zara also has piercings in her nostril and in her navel. Besides her silicone breasts, Zara's body is completely natural. She won the DDF Award for best Fetish Model of the Year in 2016.
Date posted: August 18, 2017