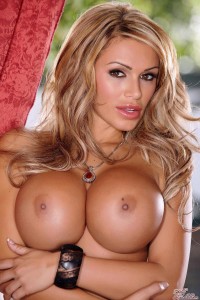 Gemma Massey is a top shelf porn star, hot and beautiful enough to be an international model. Thankfully, she ended up doing porn. Her body helped her so much during her career. She is well known for her huge breasts. She rocks a pair of 32Es, which she got after no less than four plastic surgeries, every time pumping more and more silicone into her chest. Now she has a 960cc silicone volume in her boobs, and although they look fake, no one would refuse to motorboat those monsters. Her slim body type and her short height (5 ft 2 in/1.57 m) make her huge boobs look even bigger. However, they are matched esthetically with her round bubble butt. She is a natural brunette, but you can see that she dyes her hair blonde on a regular basis. She has a couple of tattoos and a couple of piercings, including one in her clitoris. All in all, she has the perfect body for a porn star, and maybe if she'd been a bit taller she would have walked on the international fashion podiums by now.
From Clerk to Sex Diva
Gemma Massey never saw herself for what she truly is. She didn't pursuit a career in the world of porn, neither did she in the world of modeling. However, while she was working in a supermarket, stalking cans on the shelf, she got approached by a glamour photographer. After a couple of photo shoots with him, lots of other UK glossy magazines wanted to feature this new hot piece. However, her lucky day was when she got proposed a porn gig. She never considered joining the industry, but when she saw the easy money that could be made, Gemma jumped right in. She was active from 2006 up until 2014, when she decided to take a break. But she wasn't away from the camera too long. A year later she came back on the set and it seems like she reinvented herself. Now she is one of the most appreciated porn stars from UK. So much so that she can afford being picky about her scenes. She only does solo, lesbians and boy/girl scenes, and in her boy/girl scenes she has never did anal. Despite that, her fans are crazy about her.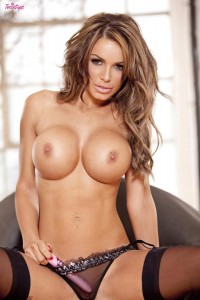 Most of her appearances are in glossy adult magazines. She was featured in
Twistys
and PinupFiles, plus many other UK adult publications. As for video porn, Gemma isn't as active as we would like her to be. So far she only starred in a little over 20 productions, most of them for lesbian porn collections. She only worked with Bluebird Films studio, except for one time when she shoot a scene for the Royal Wedding XXX parody A Royal Romp (2011), produced by Television X, but her part was a non-sex one. She is well known for her other porn parody appearances in Nikita XXX and Katwoman XXX.
Personal Life
Gemma Massey is not very open about her personal life. She likes to keep a low profile. She uses Twitter account only for promoting herself, but she doesn't post aspects of her off camera life. One thing that's sure about her is that she works her ass off to maintain such a perfect body. She is known for the harsh diets and crazy work out routines she adopted.
Date posted: August 24, 2016