Early Life
Jenna was born on November 12, 1992 in California and is of Cuban and Brazilian descent. While in high school she was a very nice and friendly girl who hanged both with the nerds and the jocks. She was outgoing and she dated pretty girls. Jenna has never been that much into watching porn, at least not straight porn. But, when she was watching it, she was watching lesbian scenes mostly, although not enough to know any of the actresses' names.
Porn Career
Being for two years in the industry she has filmed a lot of girl on girl scenes (watch her in Teen Lesbian Fantasies). Jenna loves to film with her ladies co-stars and thinks that it is very sensual and passionate. To this day she doesn't have a favorite porn actress, but she would gladly have sex on camera with Kenna James. When asked what is the best thing about being a porn actress Jenna says straightforward – "Eating pussy, duh". Jenna rose to fame after she stared in
Filly Films' "Teen Lesbian Fantasies" directed by Lily Cade for whom she only has good words, calling her a real lesbian director and performer. The industry isn't really easy especially when you are focused on filming lesbian films.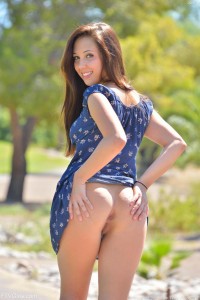 If you still haven't watched "Fuck the Police", Jenna warmly recommends this film where you can see her having sex with Officer Cade. Her favorite thing about this film (besides the sex) is the dialogue that builds up for even hotter sex. Jenna truly enjoyed filming the film, the scenes were so intensive that made her squirt. Jenna doesn't stop here; you can watch her in lots of lesbian scenes and movies and this year she already has two nominations for both AVN & XBIZ in the category All Girl Performer. Her main goal is to do more work and to grow even bigger fan base that will help her become even more recognizable.
Personal Life
Her slender and healthy body is a result of good genes and doing yoga, going hiking and in general leading a healthy life. She enjoys spending time with her dogs. Jenna loves masturbation but isn't that much into toys, although sometimes she uses a vibrator or a dildo to get a blended big orgasm. When comes to celebs, she wouldn't mind taking Scarlett Johansson to bed. As an adult model and an actress you can see her in several magazines; she was Penthouse Pet of the Month for the April 2016 issue. This amazing Latina's advice to her fans is to buy their porn, talk to their partners in order to find out what they want in bed and of course, to follow her on twitter to get first hand info about her job and life.
Date posted: July 26, 2016