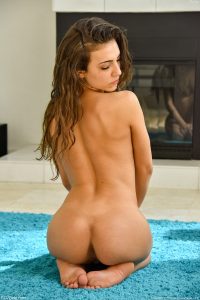 Ruby Sparx was born on June 19, 1993 in astrological sign of Gemini. Also, there's not much info about her life before entering the adult industry, plus she is a newcomer, which leaves us only to few sources of information about her life. But there's something about Ruby that is quite rare in adult entertainment world: She is still a virgin, as she claims. She performs only in lesbian and masturbation videos for now so we can only deduce something from her works. Let's see what we got...Ruby Sparx started her performing career in 2015, but before that she had some experience in camming. But don't you take her lack of hard-core action with men as a lack of knowledge! This babe surely knows how to tickle a man's and a woman's imagination. Her videos published on Many Vids are sure sign that she has a lot more to give and show than we can imagine.
In 2016, she shot a video for Reality King's subsite We Live Together with Abigail Mac where she seems like a girl who doesn't like to let anything to the circumstances but prefers to take things in her own hands, or better said - mouth. We had to applaud to her getting Miss Mac to multiple assgasms. Her next big thing and most recent shot was for Brazzers subsite Hot And Mean with Alex Nova, where she acted as her step-sister and roommate. The war for personal space ends up in masturbation and serious getting off and Miss Sparx is all fierce action, again matching much older and experienced colleagues in the industry.
Judging by the way this girl treats her sexuality as a virgin, we may only expect a total explosion of her talent in her following years when she "opens up her doors". In one way, we are excited to see her in other porn categories, but then again she entertains us so much in lesbian and solo scenes that we won't mind if she doesn't rush to other stuff. In the end, good stuff is always worth the wait and Ruby isn't only a name for a diamond - she truly is one.
Date posted: July 13, 2017