TOP 5 BDSM Porn Video Ever by Kink
Kink is the home of quality BDSM and it has been for the past few years. Many mainstream porn stars, but also babes only known in the bondage porn world have been featured in real extreme movies for this site. If you know Kink, then you know they approach the BDSM fetish from multiple angles. That's why they created several BDSM niches in their collection. In the next list you will find the Top 5 BDSM Porn Videos Ever Made by Kink. These videos come from the next categories: electro, femdom, public humiliation, water bondage and device bondage. Continue reading →
#5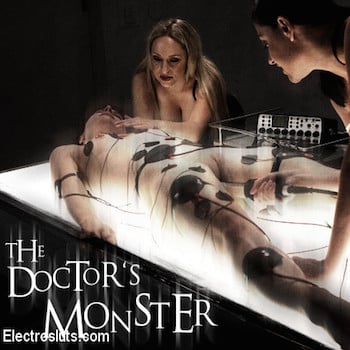 TITLE: The Doctor's Monster!
RELEASE: October 31, 2012
We start our top with one of the Electrosluts episodes. If you like electrifying torture, then you will love The Doctor's Monster, a BDSM porn movie that's partly based on the famous story of the Frankenstein's Monster. But in this case, the doctor and the sidekick are Aiden Starr and Sovereign Syre. These two electrocutes are trying to create the perfect sex slave by putting their victim through huge amounts of electrocution pain. The victim is the helpless brunette Katharine Cane and the pain she went through for this video is admirable. You should really watch this movie!
#4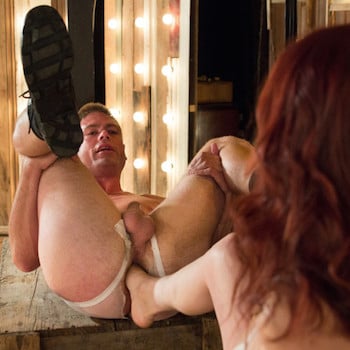 TITLE: FemDom Theatre 2
RELEASE: June 5, 2013
If you like FemDom shows, then you should check out the FemDom Theatre 2. In this episode you will find a gang of ladies who are enjoying watching a crazy dominatrix torturing and humiliating a helpless man in a bar. Everything is a show for them and this show is raw. It features some humiliation talk, cock and balls torture, asshole torture and even some pegging fucking. The guy even gets a foot up his ass, and when he is allowed to cum, he's also forced to clean up his cum with his tongue.
#3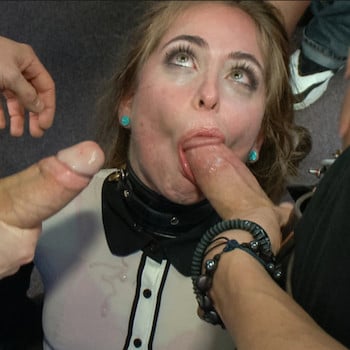 TITLE: Riley Reid's Public Disgrace
RELEASE: June 21, 2013
Making the podium, we have a hot gang bang movie in which the main bitch is Riley Reid. Although she is a petite blonde, she was able to take all the abuse and rough sex from the men the shared her pussy and ass in the back of a hardware store. Riley Reid was a complete fuck pig in this movie, fucked, chocked, spanked, slapped and spit on till she almost cried. But she loved that experience, as she confesses at the end of the movie. You should really watch this episode if you like public humiliation porn.
#2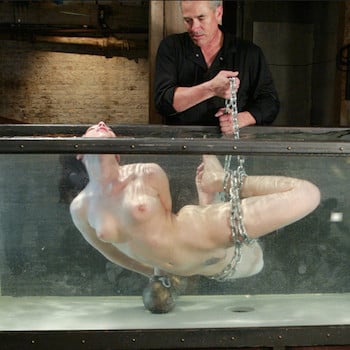 TITLE: Dana DeArmond
RELEASE: February 7, 2013
CHANNEL: Water Bondage
We're getting close to the heat of the top, but until then, let's cool off with some water bondage by Kink. And the best water bondage movie this site has ever made is Dana DeArmond. I know the title is simply the name of the porn star performing in it, but she was so good in the role of the slave that the directors decided to honor her performance by naming the movie after her. She is simply gorgeous in this video, especially in the tank scene at the end, where she surely had and underwater orgasm.
#1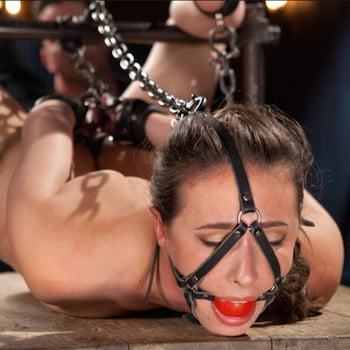 TITLE: Into the Darkness
RELEASE: June 5, 2015
The BDSM queen of our list is Casey Calvert, the babe who was tortured in the movie that gets the first place our Top 5 BDSM Porn Videos Ever Made by Kink. In this movie, Casey is getting tortured with no mercy, but in a way that's making her have some wild orgasms, and which also looks incredible on screen. She is even pinned to the floor and huge spikes are pushed into her skin. I'm telling you, this is some great torture action you're about to watch. If only all masters would be so skilled in making girls cum through pain.