TOP 5 Water Bondage Porn Videos by Kink
You and your lady might be kinky and you might like ropes, cuffs, whips, pegging, or even electric toys and watersports, but you're haven't lived until you tried the water bondage fetish. Well, that's one of the hardest to just try, because you need a complicated system of hoses and faucets. This isn't just something you can do in your bathroom or basement. You need a real dungeon for this. A dungeon like the one over at Kink, where bitches go to try some real water orgasms and drowning induced adrenaline under the close and naughty supervision of their master. Check out the Top 5 Water Bondage Porn Movies from Kink. Continue reading →
#5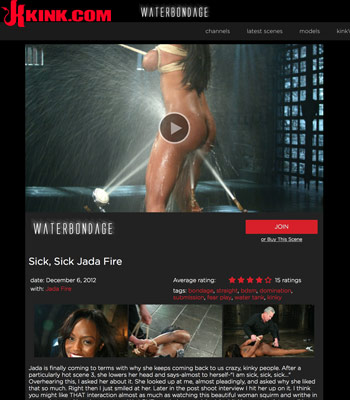 TITLE: Sick, Sick Jada Fire
RELEASE: December 6, 2012
CHANNEL: Water Bondage
Not so many mainstream porn stars are stepping in front of the camera for Kink.com, but one of the babes who did is Miss Jada Fire, a smoking hot ebony porn star who always had a thing about water. For this movie she was tied up on the floor like a captive hog. Her nice big, round and brown boobs were caught in a tight titty bondage knot, she was pinned to the sealing and the water started to be pumped all over her pussy and tight asshole. She reached intense sexual bondage ecstasy on the set and all of her screams, plus the massive orgasms she had in this movie are real.
#4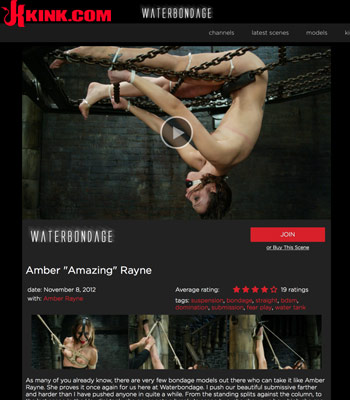 TITLE: Amber "Amazing" Rayne
RELEASE: November 8, 2012
CHANNEL: Water Bondage
CAST: Amber Rayne
Do you like crazy knots and upside down bondage positions? Well, then you will love Amber "Amazing" Rayne, a Kink production featuring Amber Rayne, who gets a ball gag mask on her pretty face, after which she is tied up in all kinds of complicated positions, in most of which she ends up hanging upside down. She gets whipped and fucked with huge toys while buckets of cold water are splashed over her body. Like that's not enough, at the end she gets dropped head first in a big water tank, but she can't Houdini her way out of that shit.
#3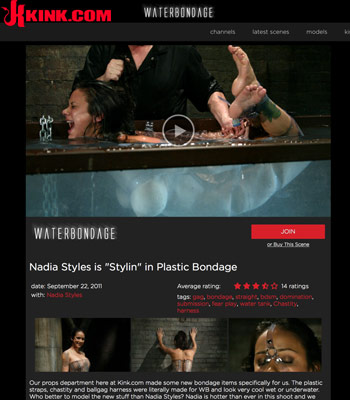 TITLE: Nadia Styles is "Stylin" in Plastic Bondage
RELEASE: September 22, 2011
CHANNEL: Water Bondage
CAST: Nadia Styles
On the third position of our top we have Nadia Styles, who gets the merciless treatment from an older gentleman with grey hair. This gent knows how to tie a bitch up, and after she's gagged and bounded on the cold floor of a dungeon, he starts spraying cold water on her and rough up her holes. But the most interesting part is when the huge water tank comes into play. She's almost drowned by the horny master who took things a bit too far. The silence of the dungeon while Nadia is submerged will give you the bumps, but that silence is broken by her screams and desperate grasps for air every time she's allowed to come to the surface and breath.
#2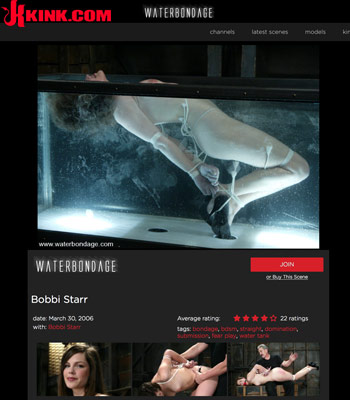 TITLE: Bobbi Starr
RELEASE: March 30, 2006
CHANNEL: Water Bondage
One of the worst and merciless experiences with water on Kink.com was had by Bobbi Starr, who really got messed up for her movie. Not only that she has a cage phobia and she was put in a cage, but she went into the Houdini tank while wearing an electrical tape. She was also in the big curved tank, but more than that, she is very ticklish. Her master found out about that, and as she was held at the bottom of the tank with no air, the master was tickling her. But she was turned on the most by her cage fear, which made her wet her panties and helped her have some crazy orgasms.
#1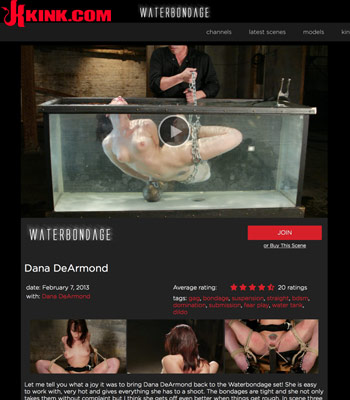 TITLE: Dana DeArmond
RELEASE: February 7, 2013
CHANNEL: Water Bondage
Here we are at the best water bondage movie ever produced by Kink.com. This is also my personal favorite because it has some kind of art into it. We chose this one because it has the best water torture orgasms on the site. Dana gets some crazy magic wand action while cold water is showered all over her. But you will love the artistic moments in which she peacefully floats in a big tank with a ball and chain tied to her waist and her mouth gagged.