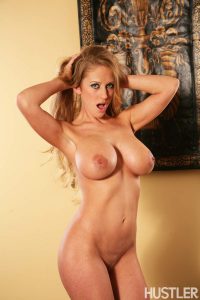 Abby Rode was born on February 21, 1979 in San Diego, California. Abby started her career in 2007 when she was twenty-eight years old. She is a single mother who pursued her career in the porn industry but after a few years of active filming, she quit and focused on her career in the sports journalism. Abbey has stated that she plans to return to the porn industry some day.
In her short career she filmed hardcore sex scenes without a lot of experimenting such as threesomes or interracial. However, her large fake breasts helped her get noticed and be labeled in genres such as 'big boobs' or 'tits fucking'. Some of her best films are Boy Meets MILF 2, The MILF Collector, The Boob Tube, Mommy Knockers, Fucking Moms Big Tits, Big Tits At School.
Abbey retired officially in 2011. She is a single mother and hasn't filmed anything new in the past five years. Abbey has silicone breasts, and a tattoo of three characters on her inner left calf and a tattoo on her right thigh. She has no social networks, at least not official ones with her porn alias.
Date posted: January 12, 2017