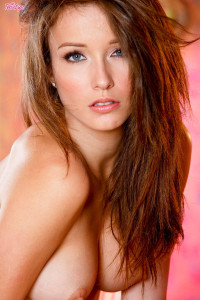 Malena Morgan is a sweet and pretty girl, with the body of a goddess and the deep blue eyes that could make you fall in love instantly. If you've seen any of her movies, you are probably already a fan, so here are some things you might now know about her. Her birthday is on 23
rd
of June, and she's a summer child
born in Florida back in 1993
. This chick has a gorgeous body, with perky boobies, slim waist and a delicious butt. She also has a couple of tattoos, like the three stars and a peacock on the left and right sides of her hip bones. When it comes to her lady part, Malena likes it clean shaved but with a little patch of hair to remind us that we are admiring the pussy of a fully grown woman. She has no piercings and her overall look is a natural one.
Malena's Independent Debut
Malena started in the adult industry as most of the girls these days, as a
webcam model.
But she didn't wanted to be just another face in the crowd. As a girl with initiative, she paired up with one of the male friends who also wanted to start a career in the porn industry and had an amateur photoshoot with the help of a photographer who put her gallery on a models site. Her hotness and talent helped her rise above the noise and one short week later she was in LA, working with
Twistys
where she was titled the
Twistys Treat Of The Month for September 2011
. Just a month after that, she became famous on
Penthouse
Magazine for a photoshoot that put her on the cover in November 2011. After the formidable debut as a soft-core model, Malena was picked up by Immoral Productions, company with which she shoot movies alongside other famous porn stars, such as Jessica Cox or Capri Anderson. She's also done covers for Swank, Club International and Cheri.
Highlights of Malena's Career
Besides a splendid body, the trait that helped Malena become famous is her sensuality. She has amazing moves and it's a delight to watch her getting it on passionately with another girl. From this point of view, her best movies are the ones shoot for
Met-Art and Sex Art
, networks famous for their babes porn. Also, as an ex webcam model, Malena is
really good in solo scenes
. She has picked up some skills which are not helping her squirt on command after about 5 minutes of fingering. She's also active in the non-adult modeling industry, being the image for Futurola, a company that manufactures and distributes cannabis smoking accessories, such as blunt wraps and rolling paper, throughout LA and the entire West Coast.
Her Offset Life
As for her life behind the camera, she is just a regular girl who enjoys the beauty of life. Her favorite drink is margarita, she has two adorable cat pets and she's an outdoorsy person, with a passion for the beach and the ocean. Her favorite holyday destination is Hawaii and she's the kind of girl who likes relationship sex better than one night stands. The first job she has was as a waitress in a restaurant back in her home town, and if she wouldn't do porn, Malena would like to pursuit a career as a nutritionist. However, she has no thoughts on giving up on being an actress, since she has the full support of her family and friends, so we will certainly see more of her in the future.
Date posted: May 18, 2015